Från Ace intervju i senaste Guitar World: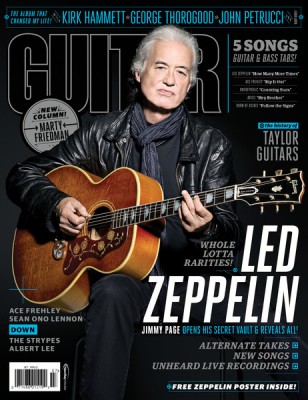 Original KISS Guitarist ACE FREHLEY: 'I Definitely Blow TOMMY THAYER Off The Stage'
In the July 2014 issue of Guitar World magazine, original KISS guitarist Ace Frehley speaks about the band's induction into the Rock And Rolll Hall Of Fame and the controversy surrounding the group's non-performance at the event. The Hall Of Fame wanted the original quartet only to play, while KISS leaders Gene Simmons and Paul Stanley insisted on the current lineup performing as well. In the end nobody won that battle.
"I was, like, Jesus Christ, after 40 years of support you can't give the fans 10 minutes?" Frehley says. "The fans wanted it, The Rock And Roll Hall Of Fame wanted it. But Gene and Paul didn't. It's sad. They definitely lost some fans because of this decision.
"I think the reason they didn't want to get together with the original members was because they're afraid of history repeating itself," he continued. "When we did 'Unplugged' in 1995, you saw what happened: because the fans were so excited about me and Peter [Criss, drums] playing with those guys, they had to scrap their last record [with then-current members Bruce Kulick and Eric Singer] and do a reunion tour [with Frehley and Criss in 1996]. Although at this point I don't think Peter could do a two-hour show and a full tour. But I still got the chops. I definitely blow [current KISS guitarist] Tommy Thayer off the stage."
Asked where he was when he found out that KISS was being inducted, Frehley said: "I was at home in San Diego and got a call from my manager. Then, about a week later, I got the 'congratulatory' call from Paul and Gene. And I could tell that there was some hesitancy on their part about the whole thing. I was asking them if we were gonna play, and Gene avoided the question by saying, 'Well, we're just looking forward to getting the four of us up there together and celebrating…' Whatever. It was a noncommittal congratulatory call. Then, about a week later, I was told that the Rock And Roll Hall Of Fame absolutely wants the four original members to reunite, and I said, 'Great, I'll do it.' And there was silence from Gene and Paul. And finally it was shot down. The next thing I heard is that Paul and Gene wanted to perform with the current KISS lineup. And I said, Well, that's kind of a slap in the face. I mean, they're not even being inducted. I have to sit through a KISS cover band when I'm receiving an award? I don't think so. I also heard at one point that they wanted me to perform in makeup with Tommy at the same time. I really didn't want to be onstage with Tommy, but I said I would do it, as long as I got to play the bulk of the songs and that I could wear the 'Destroyer' costume. Then a few days later [it was], 'No, we're not gonna play at all.' It was almost like they were trying to bait me, so that if I said no to anything they would just blame me for there being no performance. I was almost going to boycott the whole thing."