Lyssna på Gimme a Feelin från kommande albumet Space Invader som kommer den 8 juli 2014.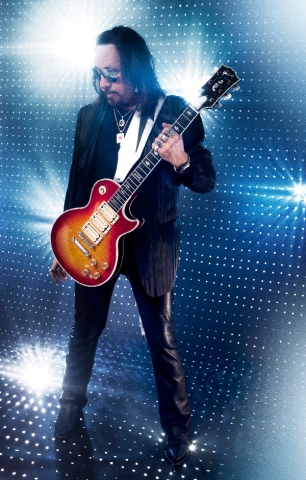 Hear Ace Frehley's Kiss-Like New 'Gimme a Feelin" – Premiere
The former Kiss guitarist's new solo album, 'Space Invader,' is due out July 8th
Former Kiss guitarist Ace Frehley was finishing up Space Invader, his first solo album in five years, around the time he was inducted into the Rock and Roll Hall of Fame. Now, with the album's release date of July 8th a little over a month away, the Spaceman is sharing the its hard-rocking first single, "Gimme a Feelin'."
Beginning with a ferocious blues-rock solo, the tune locks into a typically Frehley-like groove when he sings about a woman who's "got what it takes to jangle my brain," the swinging guitar riff and pounding drumbeat recalling late-Seventies Kiss.
Aside from the music, Space Invader has another through-line to Frehley's days with his old band: Ken Kelly — the artist who created the sleeves for Kiss' most popular records, 1976's Destroyer and 1977's Love Gun — designed the its cover. The album also contains a rendition of the Steve Miller Band's 1973 song "The Joker," and Frehley has compared its sound overall to that of his 1978 self-titled solo album, which contained the hit "New York Groove."
"I'm really excited about this record, because everybody that's heard the tracks just says they think some of the tracks are even better than [Frehley's 2009 LP] Anomaly, and even showing another side of me," Frehley told Rolling Stone in March.
He also said at the time that he was planning an album of cover songs similar to his take on "The Joker," and although he wouldn't name the songs he wanted to include, he offered up a list of musicians he hoped would contribute to the album. "[I want to] get some celebrity guests to play on it, some of the covers and stuff, get Slash, Mike McCready, my buddy from Pearl Jam. The list is endless," he said. "I might even get Gene [Simmons] to play bass on a track."