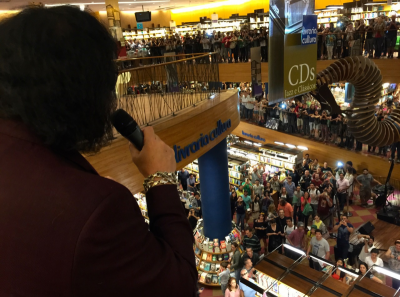 Gene signerade böcker igår i Sao Paulo och här nertill skriver han själv några rader om det.
Note from Gene:
We have a day off before the big show in Sao Paulo, Brazil. Tomorrow, we are expecting over 60,000 fans.
Today, was a bookstore signing to celebrate the Brazilian version of my ME, INC book.
I was expecting a few hundred fans.
But what met me, was a store that was over packed. And the overwhelming passion and emotion, got to me, I must say.
Some of the fans cried. Little children ran over and hugged me. I felt as if I had reunited with long-lost members of my family.
On the way out, I wanted to try to take big group photos with the fans, but it didn't quite turn out as well as I wanted it to. It nearly turned into a riot, although with good intentions. I didn't want the fans to get trampled, so I beat out a hasty retreat, with the great security staff there.
Unfortunately, our assistant Hab, was thrown to the ground by the excited fans, and the books he was carrying were knocked out of his hand. Luckily, he was not hurt.
All in all, a day I will not soon forget.
Thank you.
Now let's go tear the roof off of São Paulo.