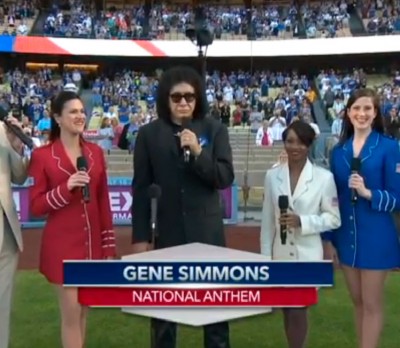 I måndags framförde Gene Simmons nationalsången vid Los Angeles Dodgers match.
Gene Simmons Sings National Anthem, Salutes America with Devil Horns
In some alternate reality, Gene Simmons probably anchors a college a cappella group (and still wears that makeup). On Monday, the Kiss vocalist-bassist teamed up with some members of the USO for a vocal rendition of the National Anthem ahead of a Los Angeles Dodgers game. With Simmons holding down the low end, the group busted out the kind of rousing harmonies that would make the Statue of Liberty weep sweet tears of freedom. And Simmons made sure to add his own personal touch to the "Star Spangled Banner," tossing up some devil horns for good measure.
Simmons and his Kiss cohorts were recently inducted into the Rock and Roll Hall of Fame, and while the original lineup took the stage together for the first time since 2010 to accept the honor, they did not perform (Simmons and Paul Stanley are the only two original members in the band's current lineup). Despite ongoing fighting between the four, Simmons took the opportunity to salute his former bandmates, Peter Criss and Ace Frehley.
"This is a profound moment for all of us. We are humbled that the fans gave us the chance to do what we love doing," he said. "And so I'm hear just to say a few kind words about the four knuckleheads who, 40 years ago, got together and decided to put together the band that you see on stage, critics be damned."
Amidst all his rocking and rolling, Simmons is making another foray into television, signing on as a co-producer of a Lifetime series, Ugly Models, about a U.K. modeling agency that works with "character models with unique and unusual looks" as it makes its way into the U.S. market.
LÄNK OM VIDEON NEDAN INTE FUNGERAR!