Fredagsmys från 1978. Läs mer om sången nedan:
When You Wish Upon A Star
When You Wish Upon A Star
Washington/Harline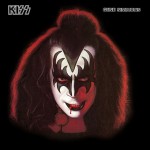 This song was a sentimental tip of the hat to the Disney cartoons that helped Gene learn English soon after moving to America in 1958. According to Gene, "When I first heard that song I could barely speak English but I knew the words were true. Anybody can have what they want, the world and life can give its rewards to anyone" (Kerrang #160). Additionally, Gene's belief in the subject matter of the song, that all things are possible, embody the American dream, something he has certainly attained: "The lyrics are the heaviest lyrics that have ever been written because they can apply to anybody. Anybody who's got a dream can relate to them… But I think it's universal at the same time. It can be personal to everybody. It doesn't have anything to do with age or sex or anything" (Grooves, 1978).
The song was written by Ned Washington and Leigh Harline and was performed in the movie "Pinocchio" (first released in 1940) by Cliff Edwards, the voice of Jiminy Cricket. This song has also been covered by Louis Armstrong and Linda Rondstadt. When recording the song Gene was overcome with the emotion of the piece. According to producer Sean Delaney, "If you listen (to Gene's version), you'll hear his voice crack, because at that point he was crying. I wouldn't let him re-record the vocal" (KISSaholics #16).
Källa www.kissfaq.com