Fredagsmys från 1985. Läs mer om sången nedan:
Uh! All Night
Uh! All Night
Stanley/Child/Beauvoir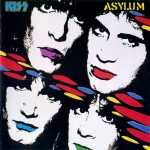 It took Paul Stanley, Desmond Child and Jean Beauvoir to come up with this song which includes lyrics that go: "Well, we work all day / And we don't know why / Well, there's just one thing that money can't buy / When your body's been starved, feed your appetite / When you work all day, you gotta, Uh! all night." Paul justifies the nature of the song, "Son of 'Heaven's On Fire' meets 'Tomorrow And Tonight' in a dark alley. Not necessarily a bad song. Definitely the best I could do in this genre at that time. I've always wanted us to have anthems, songs that were singable for anybody, whether they could actually sing or not. So the choruses tended to be simple enough that they were somewhere between chanting and singing" (Box Set Liners).
Jean played bass on the recording and sang backing vocals. This song would be the second promotional video issued off the album and had filmed in England at the same time as "Who Wants To Be Lonely." Released in December 1985, Paul recalled the filming of the video: "Literally about five days before the tour was about to start we flew back to London, and we shot, back to back, 'Who Wants To Be Lonely' and 'Uh! All Nite.' Again, it was just a gas" (Metal Hammer, 2/87). The following month the song was issued to radio stations in a promotional 12" format, though not domestically released in the United States unlike some other international markets which would get a proper single of the song.
Källa www.kissfaq.com
http://www.youtube.com/watch?v=d4IQdHtmCKQ
http://youtu.be/TFHBAaqiz90