Fredagsmys, "Heaven's On Fire" från 1984. Läs mer om sången nedan:
Heaven's On Fire
Heaven's On Fire
Stanley/Child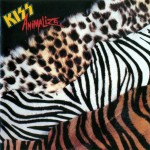 During the 1980s KISS, notably Paul Stanley, was searching for the simple anthem to compete with the rest of the music scene. According to Paul, "I was going for simplicity and sometimes that can be the hardest thing to do because your sense, as with 'Lick It Up,' is that maybe there's not enough there" (Box Set Liners). Paul has also commented that he played all of the guitars on the track and is unclear whether Gene played bass. The song was written by Paul and Desmond Child and the video became popular on MTV. The track improved on the US singles charts reaching #49, and doing better on the Mainstream Rock Tracks hitting #11.
This song actually did more for another band than it did KISS. As a result of hearing this song, Jon Bon Jovi got in touch with Desmond Child to co-write with him for the band's new album, which became "Slippery When Wet." According to Desmond, "They liked 'Heaven's On Fire' which I co-wrote with Paul Stanley so much that they copied it with their 'In And Out Of Love.' I really felt honored even because they never denied the robbery" (Desmond-Child.com).
In essence, this song had been "in the can" since the middle of May, with a rough mix of the song dating from 5/16/84. However, the arrangement was tightened up with the removal of a second solo. On this earlier mix Mark's basic first solo is followed by a return to the basic chorus, "Whoa-oh, Heaven's on fire / Whoa-oh." This is in turn followed by a second solo section similar to the first. This mix runs 3:31. A second rough mix dates from 5/25/84 and sees the song reach the 3:17 arrangement that would be included on the album.
Källa www.kissfaq.com