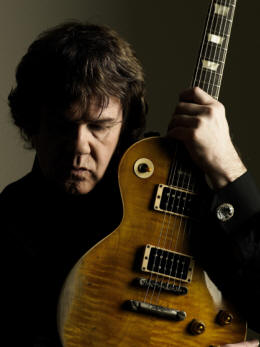 Eric Singer har släppt följande uttalande till "Classic Rock Revisited" om den legendariska gitarristen Gary Moore:
"I had the pleasure to play drums with Gary on his 1987 'Wild Frontier' tour.

"I joined Gary's band via Bob Daisley. We had recorded together withBLACK SABBATH on the 'Eternal Idol' album. Bob arranged the audition in London in January of 1987. We soon began rehearsals for what would become one of Gary's most successful tours ever.

"I remember we would practice everyday at John Henry Studios in London.Bob and Neil Carter lived in Brighton and would have to leave in time to make their train home. Gary and I would sometimes stay on and jam. Just drums and guitar. We would play THIN LIZZY tunes or just jam endlessly as Gary never ran out of ideas when it came to soloing! He would also play  those legendary guitars back then. The 'Peter Green' 1958 Les Paul and his 'Pink Salmon' 1962 Fender Stratocaster. He, of course, did not take  those on tour anymore as they had become much too rare and valuable.

"I have to say the one thing that always stood out to me about Gary was his absolute passion and intensity as a guitarist. This man played every song and note like it was the last time he would ever play it. And therefore demanded and expected the same from his band.

"I have to admit he could be a bit tough on drummers. But he only asked for  and expected what he himself gave to music. And that was complete commitment every time you played with him. He inspired me to want to play up to his level every night.

"I will always thank him for the opportunity he gave me to play with him. He really was a brilliant musician. And I always felt like he helped take me to another level as a drummer and musician. It was an experience and an education I will  never forget and take with me everywhere I go.

"God bless you, Gary Moore."

According to Mirror.co.uk, Moore died of a suspected heart attack, a postmortem revealed on Monday (February 7).

Moore died in his sleep Sunday morning, hours after checking into the five-star Kempinski Hotel in Estepona on the Costa del Sol, Spain with an unnamed female friend. He was 58 years old.

While forensic experts are satisfied Moore died from natural causes, they requested further tests on tissue samples taken from his body ahead of a final report.
Källa: eric-singer.com
Källa: www.classicrockrevisited.com