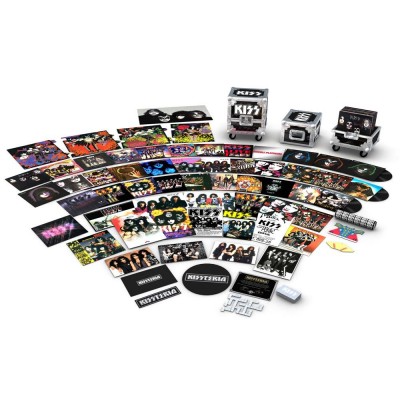 Då var priset ute för den ultimata vinylboxen KISSTERIA, endast 13020 kronor. Finns bara 1 000 boxar. Nedan informatorn om boxen.
Kissteria – The Ultimate Vinyl Roadcase
£1200.00 / Release Date 17/06/14
Due to vinyl production lead times, KISSTERIA –The Ultimate Vinyl Road Case will ship in TWO SEPARATE SHIPMENTS:
END OF JUNE = Batch 1 – Road Case loaded with Partial LPs + Exclusive Merch
BEGINING OF AUGUST = Batch 2 – Partial LPs + 6 LPs Exclusive to the Road Case
Delivery signature confirmation is required for both KISSTERIA shipments
KISS only delivers the best and for their 40th anniversary Mercury Records and UMe are proud to present the greatest vinyl boxset in all the land, KISSTERIA – The Ultimate Vinyl Road Case!
Thirty-four LPs, featuring nineteen studio albums, five Alive releases and their four solo albums pressed onto audiophile 180g vinyl for the first time since as far back as 1985 for some titles. Also included are six exclusive vinyl albums (pictured left) not available via any other offering. With all audio newly remastered in ultra-high definition DSD (Direct Stream Digital), KISSTERIA – The Ultimate Vinyl Road Case offers a maximum fidelity treatment for each iconic album.
Additional bonus items include twelve 12"x17" archival posters including the band's very first promo poster, KISS vinyl cleaning cloth, KISS turntable mat, KISS dominoes set, four band lithos highlighting four decades of the band and a certificate of authenticity proudly displaying the limited edition number of each boxset. Weighing nearly 50 pounds when fully assembled, 1,000 fans worldwide will be lucky enough to own this legendary vinyl boxset and prove to the millions of KISS followers all over the world who amongst them are the MEGA FANS.
Custom ANVIL® Road Case to house 34 KISS LPs and a plethora of extras.
Limited Edition of 1,000 Cases Worldwide
All 28 original Casablanca Records/Mercury Records/UMe albums on 180g audiophile vinyl
All albums have been painstakingly re-created in their original artwork with special packaging highlights noted belowwhere applicable:
Dressed To Kill – Embossed Front & Back Jacket Covers
Alive! – 8 Page Color Booklet
Rock And Roll Over – Sticker Sheet
Love Gun – Paper Gun with "Bang" Sheet
Alive II – Tattoo Sheet & 8 Page Color Booklet
Gene Simmons, Paul Stanley, Ace Frehley, Peter Criss (solo albums) – Set of 4 Interlocking Posters
Dynasty – 22" x 33" Poster
Unmasked – 22" x 33" Poster
Music From The Elder – First Vinyl Pressing with Concept Album Sequence
MTV Unplugged – 24" x 24" Poster
Psycho Circus – First Vinyl Pressing Ever will include a 12"x12" Lenticular Cover
Alive: The Millennium Collection – First Vinyl Pressing Ever
Carnival of Souls: The Final Sessions – First Vinyl Pressing Ever
Exclusive vinyl titles for the Road Case:
Double Platinum – Embossed front & back jacket covers + Embossed platinum award insert
Greatest KISS – First Vinyl Pressing Ever. Will combine all exclusive tracks used worldwide into one package
KILLERS – First U.S. Release Ever. Will combine both Japan and Australia track lists into one package
You Wanted The Best, You Got The Best
Smashes, Thrashes & Hits
KISS Symphony: Alive IV
Exclusive Bonus Items for Vinyl Box:
Twelve 12"x17" Archival Posters in a poster tube
First Band Promo Poster
Hotel Diplomat Concert Poster
Asylum Promo Poster
Lick It Up Promo Poster
KISS 1984 Promo Poster
Alive III Promo Poster
You Wanted The Best, You Got The Best Promo Poster
Smashes, Thrashes & Hits Promo Poster
MTV Unplugged Promo Poster
Live 1996 Tour Poster
Psycho Circus Promo Poster
Greatest Kiss Promo Poster
KISS Vinyl Cleaning Cloth
KISS Turntable Mat
KISS Dominoes
Four Band Photo Lithos
Certificate of Authenticity with Exclusive Box Number