Nu ska vi rösta på bästa låtarna från "Monster",2012.
Ni får välja tre låtar. Röstningen avslutas den 11 november 2012 klockan 20:00.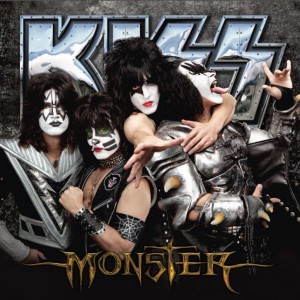 Album Notes
Produced by Paul Stanley. Co-produced, engineered, and mixed by Greg Collins. Recorded at Conway Recording Studios, Los Angeles, CA; and the Nook Studios in Studio City, CA, April 16, 2011-January 6, 2012. Engineering assistance by "Quiet" Matt Wiggers, Eric Weaver, Seth Waldmann, and Martin Cooke. Piano on "Freak" by Brian Whelan. Mixing completed by March 2012.
Similar to "Sonic Boom," the band were going old-shool recording in analogue to 24-track tape through an old Trident board. Though this time they are using Endless Analog's CLASP (Closed Loop Analog Signal Processor) system, "which integrates analog tape machines into the digital audio production workflow, is allowing the band to use analog tape while tracking to Pro Tools in real time, opening up the sonic space of tape while providing the editing capabilities of the digital recording workspace" (KissOnline). The system marries the benefits of the warmth and sonic depth/characteristics of analogue with the conveniences that ProTools allows. 14 songs were recorded (of the 20-25 brought to the sessions).
Källa www.kissfaq.com
Hell or Hallelujah
Stanley
Wall of Sound
Stanley, Simmons, Thayer
Freak
Stanley, Thayer
Back to the Stone Age
Stanley, Simmons, Thayer, Singer
Shout Mercy
Stanley, Thayer
Long Way Down
Stanley, Thayer
Eat Your Heart Out
Simmons
The Devil Is Me
Stanley, Simmons, Thayer
Outta This Worldl'
Thayer
All for the Love of Rock & Roll
Stanley
Take Me Down Below
Stanley, Simmons, Thayer
Last Chance
Stanley, Simmons, Thayer
Right Here Right Now
Stanley, Thayer
Spellista på Spotify: Kiss – Top 3 songs, Album – Kiss Army Sweden
[poll id="30″]