Setlisten från tisdagens spelning i Saskatoon, Kanada:
Deuce
Strutter
Let Me Go Rock 'N' Roll
Hotter Than Hell
Shock Me
Calling Dr. Love
Modern Day Delilah
Cold Gin
Parasite
Say Yeah
100,000 Years
I Love It Loud
Black Diamond
Rock And Roll All Nite
Shout It Loud
Lick It Up
Love Gun
Detroit Rock City
Recension Saskatoon: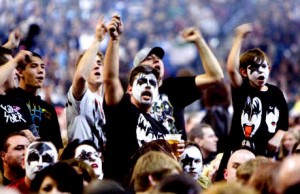 KISS Rocked Sold-Out Saskatoon
Leader-Post By Kevin Blevins
SASKATOON – KISS absolutely destroyed Saskatchewan's biggest city this week.
Yes, destroyed, and yes, it was a very good thing.
From the opening notes of "Deuce" to the closing explosions that punctuated "Detroit Rock City" two hours later, the four masked bandits who are KISS stole Saskatoon's love.
The sold-out crowd – literally jammed to the rafters in the Credit Union Centre – sang, danced and licked up every single moment in the 18-song set.
At one point, lead singer Paul Stanley opined: "We're pretty great up here, but you guys out there are… awesome!"
And the crowd really was.
I was lucky enough to see KISS a few weeks ago in New Orleans, on Halloween, at the Voodoo Experience music festival. More than twice as many people in the audience, outdoors, in a creepy historic park in the middle of the Big Easy. Pretty cool.
Guess what? A Tuesday night in November in Saskatoon's bland and sterile hockey rink was even better thanks to the audience.
Tuesday's crowd was bursting with hardcore KISS fanatics. Many wore KISS makeup. Several sported KISS costumes. A few were marked for life, revealing their KISS tattoos.
They stood, they sang and they shouted out loud.
The boys in the band clearly heard them and genuinely appreciated the hardcore fanaticism.
Strutting, dancing and jamming – "100,000 Thousand Years" clocked in at just over 10 minutes – Stanley, 57, bassist Gene Simmons, 60, and lead guitarist Tommy Thayer, 49, worked the stage like men 30 years their junior.
Simmons spit blood, drooled and leered at women, Stanley flew above the crowd (a great gag) and Thayer and drummer Eric Singer, 51, provided the musicianship to carry the circus that is KISS live. Yes, there is still lots of pyrotechnics, smoke, exploding guitars, and now dozens of video screens. KISS is still, well, KISS.
Although Simmons is a huge TV star now thanks to his reality show on A&E, Family Jewels, he takes a back seat to Stanley on stage, as he always has. It's still Stanley's show. He does most of the talking and he leads the band through the setlist, which on Tuesday night, was pretty eclectic.
Ripping through 1970s-era classics like "Strutter," "Cold Gin," and "Love Gun," Stanley and the boys also mixed in some 80s hits, "Lick It Up" and "I Love It Loud" and played two new songs from their latest CD, Sonic Boom: "Modern Day Delilah" and "Say Yeah." The latter was very warmly received.
The band also dug deep, playing "Let Me Go Rock 'N' Roll" and "Parasite" from their second album, 1974's Hotter Than Hell, still one of the heaviest KISS recordings ever made.
Although original members Ace Frehley and Peter Criss are no longer in the band, KISS didn't shy away from playing some of the former members' signature songs. Thayer did a nice turn, singing Frehley's "Shock Me" from 1977's Love Gun album. And Singer was even better singing the Criss parts in "Black Diamond," a classic from KISS's 1974 self-tltled debut and still a highlight when played live 35 years later.
Both Thayer and Singer appear comfortable in their Spaceman and Catman makeup, meaning KISS could be around for a few more years yet.
Before the show began, I had a few minutes to chat with Thayer backstage. He thanked me for bringing my 12-year-old daughter and her friend to the show, young KISS fans he had just met.
"It's great to see the kids. That's gotta be pretty cool for you to have them here," said Thayer, who once played in a KISS tribute band before Simmons and Stanley discovered him. "We're all fans. I was a member of the KISS Army (fan club) in the 1970s, and now I'm doing this. How weird, how great, is that?"
Pretty great, even on a Tuesday night, in November, in Saskatoon.
[nggallery id=41]