Några recensioner och videoklipp från Calgary spelningen.
Setlist från Calgary den 12 november 2009.
Deuce
Strutter
Let Me Go Rock'N'Roll
Hotter Than Hell
Shock Me
Calling Dr. Love
Modern Day Delilah
Cold Gin
Parasite
Say Yeah
100,000 Years
I Love it Loud
Black Diamond
Rock And Roll All Nite
Shout It Out Loud
Lick It Up
Love Gun
Detroit Rock City

CALGARY SUN
By LISA WILTON
They rocked, they rolled, they made inappropriate facial expressions and hand gestures towards women.
But what else would you expect from the self-proclaimed hottest band in the world?
KISS didn't just roll into town last night, they tore through the place like wild hyenas — glittery, spandex-clad, platform-heeled hyenas — but hyenas nonetheless.
More than 14,000 willing victims happily submitted themselves to the legendary New York quartet's two-hour sonic assault at the Saddledome as part of their KISS Alive/35 Tour.
KISS is now more than a band. They are a brand.
Fans can buy anything from dolls, snowboards, wine, glassware and even coffins, all of which are emblazoned with the KISS logo.
But you have to give them credit, that brand loyalty is almost unparalleled.
Calgary KISS fans were excited last night, so excited that many fans may have lost their voices — or passed out due to overimbibing — even before the show began.
There were hundreds of faces painted black and white in the style of their favourite member.
If the number of black stars around people's eyes was any indication, Paul Stanley's got bragging rights as the most popular.
Or maybe it was just easier to draw Stanley's star than Gene Simmons' dragonwing/bat thing.
There were a few fans who really went all out and could have probably stood in for the two frontmen had they decided not to rock and roll all night.
The crowd's good mood and excited energy erupted as the lights went down, the curtain fell and the theatrics began.
And what a start.
"You wanted the best," howled the voice from the speaker, eliciting a roar from the audience, who finished the rest of the sentence. "You got the best. The hottest band in the world."
And with that familiar introduction, the band appeared amid billowing stage fog and blinding pyrotechnics.
They kicked off with one of their early hits, Deuce, which sounded raw and tight and whetted the crowd's appetite for more of KISS' straight-ahead glam rock.
Strutter was up next with his chugging guitars and fist-pumping chorus. Surprisingly, some of the best tunes came from the group's latest album, Sonic Boom.
Bob Dylan this ain't, but the band's cheesy lyrics have never stopped anyone from enjoying a KISS concert.
It's a spectacle, but not as ridiculous a show as I might have expected.
There were huge fireballs and other random explosions, but the stage was actually relatively tasteful for a band with a reputation for excess.
A huge screen rose just above drummer Eric Singer, who was on a riser, and below it were three rows of stacked TV-sized screens.
This relatively subdued set perfectly enhanced the band's outlandish costumes.
It really is something seeing Simmons' spectacular dragon boots up close, not to mention Stanley's chest hair.
But I have to admit, I was a little unnerved watching 60-year-old Simmons thrusting his metal codpiece in my general direction.
As of press time, KISS had yet to return for an encore, but in previous concerts, the band has brought out the big hits, including Lick It Up and Detroit Rock City.
It takes a special band to be able to open for such a legendary band, but Los Angeles five-piece Buckcherry was up for the task.
Tattooed singer Josh Todd has the looks of Iggy Pop and the voice of The Black Crowes' Chris Robinson.
Buckcherry is a solid heavy rock act which embraces many of rock's cornerstones from Sunset Strip glam to the industrial sound of Detroit and New York's Bowery punk.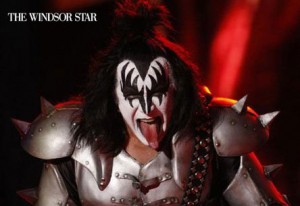 By Heath McCoy
The Windsor Star
Kiss performed a sold out show Thursday at Pengrowth Saddledome
CALGARY – The "Demon" tongue of 60-year-old Gene Simmons still flickers and coils like an obscene pink snake. He still blows fire too, like a carnival attraction.
Bare-chested "Starchild" Paul Stanley, who's way too ripped to be 57, still struts like a rock star and his overblown blues rock howl still throws a kick, as it did on the appropriately titled rock anthem Strutter.
Hardcore Kiss fans, male and female, young and old, still masquerade as their idols. The bomb blasts, fireworks and bright lights, all the big budget popcorn-movie frills that hard rock legends Kiss are worshiped for, were on proud display Thursday at the Saddledome.
Oh, and the "Spaceman" Tommy Thayer on lead guitar? He fired up one garage-dirty, arena ready riff after another, from Cold Gin to Parasite to the point where he used his six string as a canon. Literally.
As for the opening cut Deuce? The "Catman" Eric Singer hammers the drums with acrobatic flair on that one. Ditto for Hotter Than Hell and 100,000 Years.
Thursday night's 'Dome gig felt very much like a classic Kiss concert, which is a beautiful thing. Painted faces and comic book personas really have given Kiss an edge over other classic rock bands when it comes to carrying the torch 35 years and running.
Given the iconic stature of those four grease-painted faces in pop culture, it really is possible to dress up different musicians as classic Kiss and still have it feel like classic Kiss. Much like various actors have pulled off Batman over the years, so too is it possible to recapture the mystique of a classic Kiss concert.
The over-the-top show is not the only key to Kiss's lasting appeal, despite what their detractors say. The band really has crafted a considerable catalogue of awesome, mindlessly fun rock songs over the years and Thursday's gig offered much proof of that.
As blasts of confetti showered the 'Dome during Rock and Roll All Night, just before the encore – it had to said that the show was a blast.