Några godbitar från Austin spelningen den 4 december 2009.

Kiss at The Erwin Center
By Chris Garcia
Gene Simmons prowled the giant stage, scanning the front rows for female fans to harass and thrill. Fingers fondling his bass, Simmons made hard eye contact with his victims, then subjected them to slow, grinding pelvis gyrations — his metallic cod-piece glittering in the lights — and that interminable, wet, wagging tongue. The women gasped and giggled. Simmons, a self-aware pro, laughed back.
This was high comedy during KISS' spectacularly silly and moderately fun rock extravaganza Friday night at a crowded Erwin Center, a cavernous venue that could barely contain the show's endless eruptions of theatrical bombast and pyro porn that finally, during the orgiastic three-song encore, struck a comical level of hedonistic overkill. (Fire! Fire! Fire!)
KISS is lowbrow performance art — children, like so many in the audience, devour this stuff — accompanied by a tinny but extremely loud soundtrack of mindless rock ditties. For 35 years, their concerts have been a savvy blend of bluster and balderdash, with a cloying infusion of Jerry Bruckheimer. (If they began today, KISS would be a CGI creation.)
They do it well, and the four band members worked hard Friday to keep the audience involved with flattering between-song banter, constant eye-contact, call-and-response games and by anointing the masses with flurries of guitar picks. Simmons, Paul Stanley and relative newcomers Eric Singer on drums and Tommy Thayer on guitar (who does a fine imperson-Ace-tion) never took the crowd for granted, constantly checking in, begging our approval and throwing it right back, like an enormous, flame-strewn self-esteem seminar.
They opened with old-timers "Deuce" and "Strutter" — not the most muscular songs out of the gate — with Stanley promising a night of "classic vintage KISS." For more than two hours, the band stomped through, and sometimes tiresomely dragged out, a hit-list of songs about sex, partying, sex, drinking, rocking and sex. At least two songs, "Modern Day Delilah" and "Say Yeah," from their new album "Sonic Boom" ("Get your butts down to Wal-Mart and get yourself a copy!" Stanley hollered) were beer-break tunes, but the crowd thrilled and sang along to "Hotter Than Hell," "Cold Gin" and "Black Diamond."
The show hit its stride with faster, hookier songs ("Calling Dr. Love," "Parasite") and foot-stomping anthems ("Rock and Roll All Nite") that matched the volcanic production values. Amid a backdrop of JumboTrons, sirens, rising platforms, confetti and flaming mushroom clouds, Simmons spewed blood and fire, Thayer shot rockets from his guitar and Stanley wiggled his rear-end at fans before smashing his guitar. Singer's drum platform spun around.
It's no secret that Simmons, lascivious demon-beast, with that long-legged skulk and spiked armor, is the show's cynosure. In a literal high moment, he was lifted by cables to the rafters, where he mounted a platform and gazed down upon his worshipful kingdom. There he bellowed 1982's "I Love it Loud," his lips and chin stained with fake blood. The song ended and the lights went out. It was only in the safety of the dark that the winged batman could do something so ordinary and un-KISS-like as what came next: He descended back to earth.
Set list: "Deuce," "Strutter," "Let Me Go, Rock 'n' Roll," "Hotter Than Hell" (Gene Simmons breathes fire off a sword), "Shock Me" (with Tommy Thayer on lead vocals), "Calling Dr. Love," "Modern Day Delilah," "Cold Gin" (Thayer guitar solo, with rocket-firing guitar), "Parasite," "Say Yeah," "100,000 Years" (routine Eric Singer drum solo, one long cluster bomb of quadruplets), Gene Simmons bass solo (with blood spitting), "I Love it Loud," "Black Diamond" (with Singer on lead vocals), "Rock and Roll All Nite" (with stadium-clogging confetti storms).
Encores: "Lick it Up," "Love Gun" (Paul Stanley flies over audience), "Detroit Rock City" (Paul smashes guitar). More fire.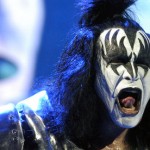 Mer bilder från Austin: www.soundcheckmagazine.com