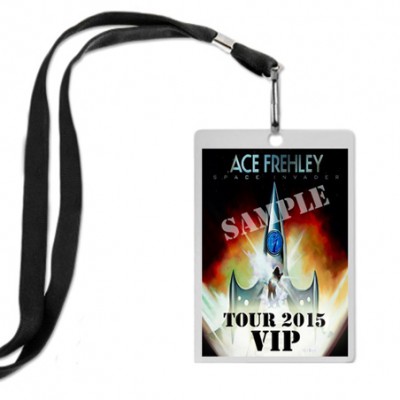 Med mindre än 2,5 vecka kvar till att Ace Frehley inleder sin Europa-turné så släpper han nu Meet & Greet-packet. Gå in på hans hemsida om Ni är intresserade, www.acefrehley.com .
Ace Frehley VIP Experience
Stockholm, Sweden, Gröna Lund Tivoli
June 17, 2015
The Ace Frehley VIP Experience includes the following special items:
• Meet and greet with ACE (before show)
• Personal photo with ACE
• Limited edition Space Invader Tour poster (autographed & personalized)
• V.I.P. Tour Laminate
• V.I.P. Space Invader Tour T-shirt
• Autographed Space Invader CD (deluxe version)
• Autographed 8×10 photo
• Space Invader sticker
• 3 limited edition Space Invader guitar picks (different colors)
• ACE will autograph one item of your choice
(except guitars, guitar parts, or musical instrument items)
Note: Substitutions of equal or higher value items may occur due to availability. All items will be provided backstage before the meet and greet with Ace and will not be shipped. Your name(s) will be on Ace's V.I.P. guest list and pass(es) will be available at will call.  
• Please note that the V.I.P. Experience package does NOT include
a concert ticket which must be purchased separately.
• Please be sure to select the V.I.P.Experience in YOUR city!
• No Returns on V.I.P. Experience Packages
• Customer Service: admin@ostronomy.net
Price: $300.00 (US Dollars)