Intervju med Ace Frehley om kommande albumet Space Invader: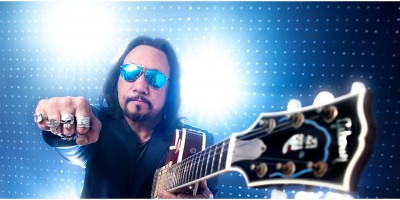 INTERVIEW: ACE FREHLEY TALKS NEW ALBUM, KISS & MORE!
You Wanted the Best, You Got the Best!…After touring the globe with KISS as the iconic Spaceman, and releasing five solo studio albums, Rock and Roll Hall of Fame inductee Ace Frehley has become a true rock icon and a huge influence for many musicians worldwide.
Now, following his successful 2009 album, Anomaly, the Spaceman is ready to take over the world once again with the release of Space Invader, which will hit stores on August 19th, 2014.
Thanks to eOne music and our friend, John Howard from Bullet Proof, we had the chance to accomplish one of our rock & roll dreams: we got to have a chat with the man himself. Mr. Ace Frehley gave us insight into the process of creating his new album, hinted at a potential visit to Australia, and, of course, gave us a bit of KISS history, making this interview a mandatory read for rock & roll fans!
SR. I must start this chat by saying how much the Spotlight Team loves your work and how honoured we feel about this chance to speak with you.
AF. Thanks, a lot.
SR. Let's get to business and talk about your killer new album, Space Invader. So, after 5 years, you're releasing this album. How do you compare it with your previous release, Anomaly?
AF. I think it's a heavier album. I think it's more rock'n'roll and I think the fans are gonna be drawn to it more than the last one. I think it's what they wanted. After I did Anomaly, a lot of my fans said the next album should be heavier. There should be more guitar work, and so on and so forth. And I think I succeeded with that.
SR. You also treated us, on this album, to a cover song by Steve Miller: The Joker. How did you pick that song?
AF. Actually, Ken Gullic from eOne music here in America came up with the idea for me to record that, and I'm really happy with the way it turned out. We'll probably release it as a single somewhere down the road.
SR. If you had to pick up another cover song for your next album, which would you like to play and why?
AF. Well, the next album I'm gonna record – and I've already started recording it – the next album for eOne music here in the U.S, is gonna be all covers and all remakes. So, it should be a real treat and a lot of fun to do.
SR. Who played on this album with you as your support band?
AF. There's only one drummer on the record and that's Matt Starr. He was my touring drummer on the last run of shows I did, a few years back. And I decided to bring him into the studio and he worked out perfectly. And I play all other instruments, except for just a couple of tracks Chris Wyse from The Cult is playing bass on.
My fiancé Rachael Gordon is singing background on a few songs. And a few of the other people… Matt sings background. We got Warren Huart to sing on Space Invader and Toys.
You know, this album is a lot like my '78 solo album, where I played all the instruments.
SR. Speaking about that, for many fans, the chemistry between you and Eddie Kramer on the '78 album was magic. So can you tell us about the process of working with Eddie?
AF. Well, I always had fun and enjoyed working with Eddie Kramer. He always liked to experiment and try to get different, interesting sounds. I was always trying to be an innovator with guitar sounds and combinations of amps and guitars and special effects. We had a lot of fun doing that '78 record. I haven't heard from him in a while. I don't know what he's been doing recently.
SR. Who was the producer on Space Invader?
AF. I produced it.
SR. Oh, you did all the production yourself? That's awesome, man.
AF. Yeah, I produced the record. It was mixed by Warren Huart. Yeah, this album is my baby.
SR. It sounds amazing. We had a listen to the live stream and we liked almost every song. But the one that sticks out personally in my mind is Toys. What can you tell us about that song?
AF. To be honest with you, I wrote the lyrics and recorded the vocal on that – the whole thing took me about two hours. (Laughs).
SR. If you had to choose a favourite from this new album, which would it be and why?
AF. The one that I'm most excited about is Space Invader, and I'll tell you why. That song was an instrumental track from the last two weeks of mixing. And I went back into my hotel room while Warren Huart was mixing and I wrote that song. It just came together in one day.
SR. How do you feel when popular musicians like Stone Gossard from Pearl Jam and Lenny Kravitz point to you as one of their biggest inspiration?
AF. It's very flattering, you know. It's not something I think about very often. If I'd known I was going to be that big of an influence, I would've practised guitar a lot more. (Laughs).
To be honest I've never taken a guitar lesson!
SR. Really? Never?
AF. Never taken a guitar lesson. Never had any formal training. You know, maybe that's one of the things that musicians starting out find attractive: because my guitar work is so accessible and easy to figure out. I don't know. I don't have an answer for that. (Laughs).
"…I've never taken a guitar lesson!"
SR. You visited Australia back in 2010 for a solo tour with your band. We saw you at the Enmore in Sydney. What memories do you have about playing there?
AF. Oh, it was great. I mean, all the shows in Australia were terrific. Great audiences. You know, I mean, ever since KISS came to Australia in 1980, there's always been a special place in my heart for Australia because they've always been so good to us.
SR. And when will you tour Down Under again? This is the question everyone has for you.
AF. I've been speaking to the record company there and they're really excited about the record, and they're really excited about bringing me back, so, maybe before the end of the year, maybe next year. Who knows? You'll be the first to know. (Laughs).
SR. We're really excited about that. Speaking of touring, what's one vivid memory you have about touring with KISS?
AF. One of the clearest memories I have is when we played a stadium in Australia in 1980. I remember flying in in the helicopter into a huge, round stadium. I'm not sure exactly which city it was in. It might've been Melbourne.
The 1980 tour. That was an amazing tour. That year we got the key from the lord mayor in Sydney. It was an amazing tour. I remember playing a stadium and flying in in the helicopter. It was a very special night.
SR. What is the most common question fans ask you when they bump into you on the street?
AF. (Laughs) Anything and everything, you know? 'How you been?' 'What are you doing?' 'When's the next album coming out?' You know? Now I can tell them the answer: August 19th.
SR. What do you remember about the first time you jumped onstage with KISS in full make-up in front of a crowd in a huge arena show?
AF. Well, when I think of the first time we played big places with KISS, I always think about Madison Square Garden, you know? Playing your home town to a sold out crowd. That was such a special place – 18,000 people screaming. When I was growing up as a kid, in New York, I used to go to concerts at Madison Square Garden, and I used to say to myself, 'Maybe one day I'll be on that stage.' And, of course, it did happen.
SR. We have some questions from fans for you. The first one is: As you are known as the Space Man. Which are your favourite science fiction movies?
AF. Oh, that's easy: The Day the Earth Stood Still, Forbidden Planet, and… let's see… the third one? Star Wars…You know, the beginning of Immortal Pleasures is from Forbidden Planet.
SR. You were the mastermind behind the KISS logo and provided some advice about the band's make-up. If you could change any of the band members' make-up, whose would it be and why?
AF. I would never change any of the make-up. The make-up has withstood the test of time, and the logo is one of the most recognisable logos in rock'n'roll. I wouldn't change a thing.
"The make-up has withstood the test of time."
SR. Just to start wrapping up, we always ask our guests these questions: Can you share any funny or weird fan requests with us?
AF. Well, once a girl was in my room and she wanted to have sex with me. And she wanted me to keep the make-up on. (Laughs).
SR. (Laughs). Well, we imagine that's a fantasy of many of your groupies, man.
AF. Oh yeah! (Laughs).
SR. Following up on that, can you share any funny tour stories with us?
AF. There are so many funny stories and I've documented some of them in my book, No Regrets. And right now, I'm working on my second book, which is going to have a ton more stories.
But, yeah, when we did that funny movie, Kiss Meets the Phantom of the Park. There are a lot of funny stories from during the shooting of that. I had a little motorcycle I was driving around the amusement park, and I'd crash all the time. (Laughs).
SR. (Laughs). We love that film, it's an instant cult-classic!
AF. Yeah, well Paul and Gene didn't seem too happy about it, but I thought it was funny.
SR. I'd like to ask you about the Rock'n'Roll Hall of Fame experience. What was it like to be inducted?
AF. It was a lot of fun and a huge honour. I had a very good time and the press were really good to us. My only regret is that we didn't perform – the four original members.
SR. Yeah, that was a huge let down for many of us too.
AF. It was something that me and Peter (Criss) wanted to do. It was something that the Rock'n'Roll Hall of Fame wanted us to do. And Paul and Gene shot it down.
SR. What's your opinion of the latest KISS album 'Monster'?
AF. I haven't even listened to it. I haven't listened to it because most of the people I know that have listened to it didn't have too much to say about it.
I'm really more interested in how people are going to compare this album (Space Invader) to the most recent KISS album. (Laughs).
SR. Just to finish, what advice would you give to young Australian musicians who'd love to follow in your footsteps playing guitar?
AF. Practice, practice, and more practice. But it's also about following your dream. You know, I told people when I was 16 years old that I was gonna be a rock star, and everybody used to say, 'You're crazy!' And if you ever interviewed people that I grew up with, they'd tell you that I had predicted it years before it happened.
If you have a dream and you have talent, don't let anybody tell you that you can't do it. You know, you can put your mind to just about anything and succeed if you have the strength and the talent.
'SPACE INVADER' to be released August 19th, 2014.
Källa www.spotlightreport.net