Mitch Lafon intervjuar Ace Freheley: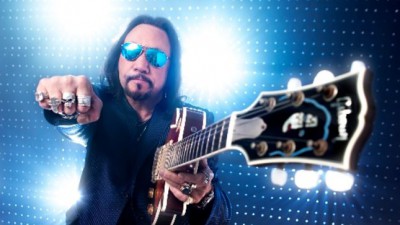 ORIGINAL KISS GUITARIST ACE FREHLEY, QUEENSRŸCHE GUITARIST MICHAEL WILTON GUEST ON ONE ON ONE WITH MITCH LAFON
Legendary original KISS guitarist Ace Frehley and Queensrÿche guitarist Michael Wilton join Mitch Lafon on Episode 49 of One On One with Mitch Lafon. This episode was co-hosted by Creatures Of The Net Podcast host Cassius Morris:
"In our first interview, iconic guitarist Ace Frehley talks to Mitch about his upcoming tour and new album, Space Invader. The pair also discuss Richie Scarlet re-joining him on his upcoming tour, the recording of KISS' Psycho Circus album, whether of not 'The Joker' was anappropriate song to cover, his upcoming second book, his upcoming covers album, who was/is the best KISS drummer, Gene Simmons, Paul Stanley, whether the Frehley's Comet album Second Sighting really a Tod Howarth solo album, the probability of reforming with Four By Fate's John Regan and Tod Howarth, and much more.

In this episode's second interview Queensrÿche guitarist Michael Wilton talks about the band's rights in regards to performing the Operation: Mindcrime album, his Soulbender band and upcoming Soulbender II album, the release of a live Queensrÿche album with their new vocalist Todd La Torre, writing for the next album and more."
Hot off the heels of the monster debut of Space Invader, Ace Frehley has announced his touring lineup for the first leg of tour dates, his first US shows in four years, which will be announced next week.
Frehley comments: "I can't wait to hit the road again with this new lineup. I'll be performing Ace classics as well as songs off my new CD Space Invader for the enjoyment of the fans. Let There Be Rock!"
The 2014 Rock And Roll Hall Of Fame inductee has tapped none other than Richie Scarlet, who rode shotgun performing rhythm guitar and vocal duties on Ace's Trouble Walking platter in 1989, and will do so again on stage. Ritchie toured with Ace in 1984 and 1985 and periodically from 1989 through 1995 and was also known for touring with Sebastian Bach.
On bass and vocals Chris Wyse from Queens, NY will man the post. Previously recording with Ozzy Osbourne and playing on Mick Jagger's 2001 solo album, Chris is well known as the bass player from The Cult since 2006. Chris can also be heard on Frehley's new release, Space Invader, on select tracks. He also covers bass duties in his current band, Owl.
Finally, Scot Coogan will be behind the drum kit for Frehley's upcoming tour. An Ace Frehley touring band veteran in his own right, Scott was also a member of Nikki Sixx's Brides Of Destruction recording and touring band in 2004 and Lita Ford's touring drummer in 2012.
Ace Frehley recently made history with his new album Space Invader, which debuted at #9 on the Top 200 Chart in its first week of release. The LP scored the highest charting position of any KISS solo album ever, and marks Frehley's first return to the Top 10 since KISS's 1998 Pyscho Circus reunion album. Internationally, Space Invader has debuted #1 on the Independent Chart and #16 on the Top 200 Chart in Canada, Top 40 in Switzerland and Sweden, and hit a historic benchmark for the first time ever as a solo artist in Germany.
Frehley stopped by The Tonight Show prior to his album release to sit in with legendary house band The Roots to perform his classic hit "New York Groove." Watch below: