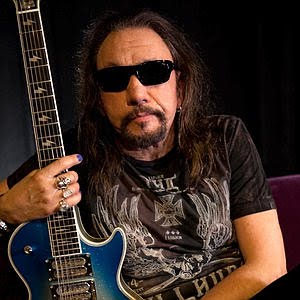 December 17, 2013 5:50 PM ET
The past few days have been a crazy roller coaster ride for Kiss guitarist Ace Frehley. One of his houses burned to the ground in suburban New York earlier this week, and late last night he learned that Kiss were finally inducted into the Rock and Roll Hall of Fame. He called up Rolling Stone to chat about the honor and the possibility of the classic lineup of Kiss reuniting for the occasion.
Trace Kiss' (long) road to the Rock Hall in photos
How are you doing, Ace? I'm great. I'm in San Diego.
I imagine your phone has been ringing off the hook today. It's been a crazy three days. My recording studio in New York burned down on Saturday.
What happened? A tree fell down in the backyard and shorted out the wires going into the studio. That in turn shorted out the fuse box which heated up the wires in the wall and set the place on fire.
Was anybody hurt?  No. Thank God. My friend that was house-sitting was at work. Luckily, it's pretty much just a storage place. I got all my high-end equipment out of there a year ago when I moved to San Diego.
Do you have insurance? Of course. . .Unfortunately, it was a total loss. The building is shot.
See all of the Hall of Fame's inductees from 1986-now
Tell me your first reaction to the news that Kiss made it into the Rock and Roll Hall of Fame.  It's such an honor. I'm so excited. I learned about it last night when my assistant called me. I didn't sleep very well afterwards.
Did the news surprise you? It surprised me, but when I saw all the people we were up against I had a feeling we were going to make it in…It should be a great evening. I'm really excited and looking forward to the night.
You've never been a real critics' band. Did you worry you'd never get in? I had a sense that someday we'd have to get recognized, and that someday has come to pass.
Are you at all miffed it took so many years?  It's not something that occupied a lot of space in my head. I had more important issues to deal with. It's just a nice sentiment that finally we've been recognized. I'm looking forward to meeting everyone else and enjoying the celebration.
I spoke with Gene a couple of hours ago. He said he's willing to play with you and Peter Criss that night. Okay. That sounds like a great idea.
Are you open to that too? Absolutely. Are you gonna want us to put makeup on?
Sure. It's been a while for me.
It's been over a decade, right? The last shows I did with Kiss was in Australia around 2002.
You have no hesitation about walking back onstage with Paul and Gene? Not at all. I think it will be great. I think it will be great for the fans to witness and a lot of fun. I recently performed with Peter at the Hard Rock Cafe in New York for Eddie Trunk's 30 years in broadcasting celebration. That was a lot of fun. I hadn't performed with Peter in 12 years. We all still have it.
Gene mentioned that next year is the band's 40th anniversary. He said he didn't want a reunion tour, but I got the sense it was somewhere in his mind. Would you want a Kiss reunion tour?  It's something I haven't even entertained or even thought about. I hadn't even realized that next year is the 40-year anniversary. Right now, I'm focusing on my solo career. I recently signed a two-album deal. I've been in the music for the past three months.
If a tour was offered to you, would you think about it? It's something I would consider if it was presented in the proper way.
Gene was praising you when we spoke, but in other interviews he will call you a "cancer" or a "loser." I've always had a pretty good relationship with Paul and Gene. We parted company on more than one occasion, but there's always been mutual respect and admiration. I think somehow the press plays it up that there's a lot of hate between the members. It's really completely blown out of proportion.
But he called you a "cancer" recently. A cancer? I wasn't aware of that. What does it mean?
I guess that you're somehow a poison. [Huge laugh] I think he gets frustrated that even though they have a replacement for me in the band, fans are continually bombarding him and saying, "Hey, you should get the original guitar player back. Ace is still number one." He gets that constantly. It has to be frustrating to him and Paul.
Are you insulted that somebody else is in your makeup? Well, it's a choice that Paul and Gene have made. I know the fans aren't happy with it. I read the comments on the Internet. Paul and Gene have lost a lot of fans because of the move they made. It is what it is.
I'm not happy about it. Most of the comments I read by fans say that, "If you're going to replace Ace, you should have created a different character." That's what they did with Vinnie Vincent when I originally left the group in 1982.
They have Eric Singer in the Catman makeup and he's singing "Beth." I didn't know he was singing "Beth." [Laughs] You know, a lot of the fans I talk to just tell me they aren't going to go to the shows anymore. I know concert attendance hasn't been what they've wanted this past year. It is what it is. I'm busy doing my own thing. I'm real excited about the celebration in April. I'm real excited about my second book.
What's this one about? It's going to be pretty much a continuation of the first one. That book really opened up the floodgates in me. The last three or four weeks of finishing up that book I spoke to so many people that reminded me of so many stories I had forgotten. I didn't really get a chance to put them in the first book. I jotted a lot of them down. I have a couple of chapters already written for the second book and a lot more to follow.
It's pretty much going to be a continuation of the first book. A lot of new stories too. There's tons and tons of new stories. All I have to do is sit down with one of my old bodyguards or road crew and I get two or three stories off the bat.
Gene told me you guys had a meal at the Beverly Hills Hotel before your first book come out. Clearly you guys aren't feuding like many fans believe. Yeah. Me and Gene, we don't have a problem. We correspond via e-mail several times every year. I haven't spoke to Paul [Stanley] recently except over some business maters, but we've kept in contact over the years. There really isn't any bad blood. They've decided to make a decision and go in one direction. I decided to go in another. I think the fans are more upset about it than anybody.
Gene has implied he doesn't believe you are sober. That's kind of juvenile. Does he have blinders on? I know he's spoken to several people that I know that he knows that have seen me and done business with me over the past several years. I don't believe they are telling him that I'm not sober. It's been over seven years for me and I can't see myself going back. But all I have is today. One day at a time.
It must be flattering the fans are so invested in you and many don't accept it as Kiss without you there. It is flattering. It's heartwarming. I have a lot of diehard fans. Ace Frehley fans and Kiss fans are the greatest fans in the world. They've always been there for me through ups and downs. My life has been a roller coaster ride, but somehow I've always been able to land on my feet and still play the guitar.
I imagine it's going to be emotional to stand at the podium with the three other guys in the band. It's going to be intense, but it's going to be great. I don't foresee any negative vibes. I don't foresee any bad blood. I think that myself, Peter, Paul and Gene, we're the four guys that started the group and brought it into international success. I think that sometime in the late 1970s we were listed as the number one group in the world by some polls. We achieved what most people only dream about. I'll never forget it. And that's something nobody can take away from me.
It's also amazing to think about how many guitarists were first inspired to play by watching you. I get that constantly from guitar plays. They say, "Ace, if it wasn't for you I would have never picked up the guitar." I've had two highly successful Gibson signature series Les Paul's released. I know my first one was the best selling Signature Series of anyone in the history of Gibson. I continue to come up with new things. Not only did I come out with some successful Signature Series guitars, but I was such an innovator from the very beginning with special effects on the guitar. First my smoking guitar and then my light guitar and then my rocket guitar. Nobody has ever done that in the history of rock and roll.
I think the fans will really love seeing the four of you play one final time at the Hall of Fame. It's a pretty nice way to end the story. Well, it's a nice way to end the story — or a nice way to re-begin the story. [Laughs] Who knows? I'm always one of those people that say never say never.
Read more: http://www.rollingstone.com/music/news/kiss-ace-frehley-on-hall-of-fame-i-dont-foresee-any-bad-blood-20131217#ixzz2nnhVwSii Follow us: @rollingstone on Twitter | RollingStone on Facebook