Recension från Ace spelning den 17 augusti i Erie County Fairgrounds, Hamburg, NY:

Ace Frehley – Erie County Fairgrounds, Hamburg, NY – Aug 17,2011
Review by John Jeffrey Photos by – Thomas S. Orwat, Jr.
Hamburg, NY – On August 17, 2011, original KISS lead guitarist, Ace Frehley, made a special WNY appearance, as Ace played a free concert at the grandstand of the Erie County Fair, on the second last date of his 10 city summer tour. This concert was my favorite time seeing Ace play solo since he opened for Alice Cooper (at 'the Aud' in Buffalo) in November of 1987. Ironically, this concert was originally being negotiated as an Alice Cooper show, with Ace opening, before Alice wound up getting booked at the Erie Canal Harbor at a later date. I'm not basing my ranking of this show on his performance or set list really, but just the fact of seeing Ace doing a headlining gig, on an arena sized stage, with a stadium level sound system, was just beyond awesome. All of the Ace solo shows I attended from 1990-2008 were all in some nightclub or bar type setup, with a small stage, and usually a sub par PA. While he always made the best of it, Ace is a true 'Rock Music Star,' and deserves to be playing only A-list venues at this point in his legendary career.
Ace hit the stage at 8pm, and played a 75 minute set, which was almost identical to the pre-"Anomaly" (Ace's 2009 solo CD) song list that he was doing in 2008. While some diehards have questioned why Ace played so many KISS songs that he didn't originally co-write or sing, being that it was a 'free show' with a mixed crowd of KISS/Ace fanatics and general concert/fair goers, it made sense that he played so many of the KISS hits in which he was involved with, during their 1970's heyday.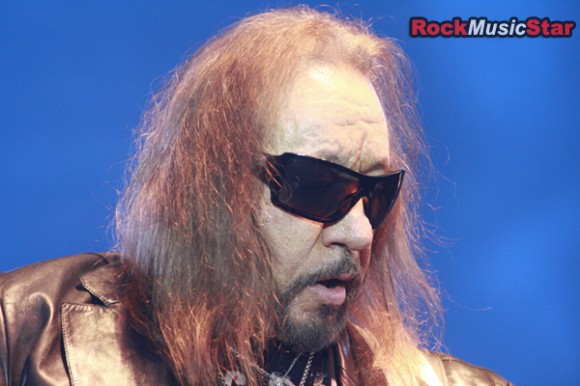 Being drug and alcohol free now for several years, Ace has found his comfort zone in doing concerts clean and sober. Gone are the slurred, incoherent in-between song ramblings and bad jokes (although Ace really wanted to tell the "I just flew in from….and boy are my arms are tired" one, as he stopped himself mid sentence, at the beginning of the show), as the 'Ace Frehley band' of today is a tight musical machine, that methodically rips through song after song, with next to zero stage banter. Some may argue that Ace's past alcohol induced unpredictability was part of his charm, but having Ace alive, healthy and still rocking out at 60 years old, is what really matters.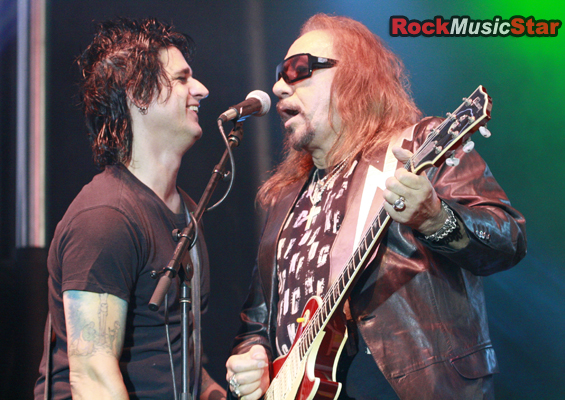 Highlights of the show were definitely seeing Ace ripping during his smoking guitar solo (which came right after "Shock Me," complete with the "Alive II" live outro) and hearing the 2,500+ fans in attendance singing along during the break down part in "New York Groove." Ace Frehley proved that he can still 'bring it' and while he will be releasing his autobiography, "No Regrets," in November, one can hope there will be more new Ace music in the future, and more great tours to follow.
Setlist
Rocket Ride
Parasite
Sister
Snowblind
Rock Soldiers
2000 Man
Strange Ways
New York Groove
Love Her All I Can
Shock Me
Shout It Out Loud
Love Gun
Rip It Out
Cold Gin/Black Diamond 
Källa www.rockmusicstar.com