Ace Frehley uttalar sig om nya Kiss: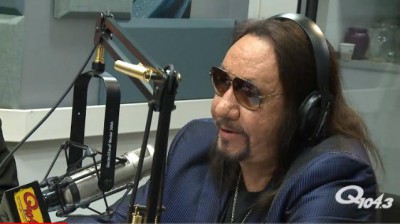 ACE FREHLEY Says PAUL STANLEY And GENE SIMMONS Are 'Trying To Use Psychology' On Fans
Original KISS guitarist Ace Frehley says that KISS leaders Paul Stanley and Gene Simmons are "trying to use psychology on the fans" so that the fans will accept the new version of the band, which doesn't include Frehley and drummer Peter Criss.
Simmons and Stanley have chosen to have current KISS members Tommy Thayer and Eric Singer dress up as Criss' and Frehley's respective "Spaceman" and "Catman" personas (designs owned by Simmons and Stanley).
Asked about Stanley and Simmons' often-repeated claim that KISS can carry on without any original members, Frehley told Jim Kerr of the WAXQ-FM / Q104.3 radio station in New York City (see video at this location): "My feeling is they're trying to somehow validate the fact that they have two fake guys in the band wearing my makeup and Peter Criss' makeup, the makeup that we created. So to try to validate that, they're going, 'Oh, we're gonna be replaced too some day.' You know, that's like Mick Jagger saying, 'I'm gonna replace myself and Keith Richards and the band is gonna go on as THE ROLLING STONES.' I mean, give me a break. [Laughs] They're just trying to use psychology on the fans so that they'll accept Tommy and Eric. It's a joke. I mean, how could KISS go on without Paul and Gene? All it would be is a KISS cover band, and there's plenty of those around in this country."
During a recent interview with The Weekender, Stanley spoke about the possibility of KISS continuing without him and Gene.
"I know KISS won't end," Stanley said. "The question is, 'How long will I be a part of it, or Gene be a part if it?' I really don't know. As long as we can.
"Though the band has never been better, I'm also aware that I'm not the only person that can do what I do.
"I didn't invent what I do. I was influenced by a lot of great singers and performers, and there are people out there that are just chomping at the bit to get up on stage, and I believe there is more than one person that can go up there and blow people away. At some point, I won't be there."
It was back in 2005 that KISS manager manager Doc McGhee first told the New York Times that the group had "been toying with the idea of recruiting an entire band to… don the band's famous makeup." McGhee said, "KISS is more like Doritos or Pepsi, as far as a brand name is concerned. They're more characters than the individual person. I think (new members) have a legitimate chance to carry the franchise."
Simmons didn't necessarily disagree with that idea. He told Launch that the concept of original members isn't widely held by fans, and it isn't really accurate anyway. "There's no question that there's a core of fans — five-10 percent, my sense is — who believe in original members," he said. "And yet, when you look at original members, THE BEATLES are not original members — Ringo is not an original member; THE [ROLLING] STONES — barely. You know, they've had so many members come and go, but it's the STONES; and AC/DC's aren't original members; and VAN HALEN; and JOURNEY…you go down the list of every — almost every band you can think of."
In a 2012 interview with The San Diego Union-Tribute, Stanley reaffirmed KISS' intention to continue after he and Gene Simmons depart.
"The band is bigger than its members," said Stanley. "And it only takes, in this case, four like-minded people with a similar outlook and talent to further the cause and continue KISS. It makes perfect sense to me. It may not make sense to other bands, but we're not other bands. We don't live by those rules. We never have."
Simmons told Rolling Stone magazine in March that there will come a time when he will no longer be able to tour with KISS due to the band's rigorous schedule. "I'm 64 now," he said. "Three more tours. Two, if I have a life change of some kind."