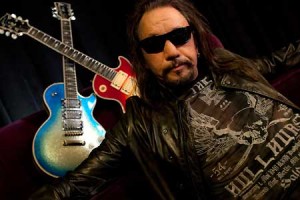 Ace Frehley släpper sin nya platta "Space Invader" genom One Music den 24:e juni i år!
Rock And Roll Hall Of Fame inductee ACE FREHLEY will release Space Invader, his first new solo album in five years, via Entertainment One Music (eOne Music) on June 24th. The album will include at least nine brand new original songs as well as a cover of THE STEVE MILLER BAND's 'The Joker'. This album is the first release under Frehley's new universal deal on eOne Music.
Frehley has released an official statement surrounding the exciting news: "Life on Earth has been very good to me, and the body of work I've created over the years has withstood the test of time. Today I see no obstacles before me and my creativity has never been more fine tuned. Growing up in an Alien world has enhanced my senses and allowed me to succeed where others would have failed. The best is yet to come!"
Widely known as the original "Space Ace" and founding guitarist for 16 cumulative years (over two tenures) of the multi platinum selling rock band KISS, Frehley is demonstrably the most popular original member. In addition to having the best selling solo album career (vintage or current) among the original foursome, Frehley's self titled Ace Frehley, released in 1978, went on to sell over one million copies, producing the only Top 40 single, 'New York Groove', from any of the legendary KISS solo albums; (peaking at #13). The massive hit was most recently featured in an episode of cult show Entourage and was also KISS' second bestselling download in 2012, besting such KISS Army anthems as 'I Was Made For Lovin' You', 'Beth' and 'Calling Dr. Love' even after 36 years.
Since departing from KISS, Frehley went on to release four more solo albums and one live EP including his most recent effort, Anomaly in 2009, which debuted at #27 on the Billboard Top 200 chart and received a welcoming response among critics.
Ace will participate in the 2014 Revolver Golden Gods Awards show by presenting the Dimebag Darrell "Best Guitarist" Award alongside label-mate ZAKK WYLDE. The awards show will take place on April 23, 2014 at the Club Nokia Theater in Los Angeles. Tickets are on sale now.
Frehley adds: "It's exciting to finally be part of the Golden Gods, awards and an honor to be part of any Dimebag memorial award.  He was a friend, and I know everyone misses him, as do I."