Artikel från www.hollywoodreporter.com: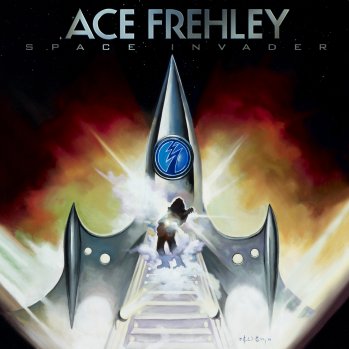 Kiss Guitarist Ace Frehley on Paul Stanley and Gene Simmons:
"Maybe You Should Focus on Your Records a Little More"
Kiss guitarist Ace Frehley has released his first solo album in five years, and by the sound of Space Invader the axeman seems to have had as much fun playing on it as — gasp — his early years in Kiss. From the opening title track to the instrumental closer, "Starship," where Frehley signs off with his famous cackle, Space Invader offers a classic journey through Space Ace territory: lots of groove, cheerful rock'n'roll 'tude and fiery licks.
Among the surprises on his new album: a cover of Steve Miller Band's "The Joker," which, Frehley says, he's "real happy" with. "I heavied it up and threw in the guitar solo and gave it a 'New York Groove' kind of swing in the rhythm track." Could it be a preamble to more covers? Indeed, eOne Music suggested a covers project, which may include a rerecording of "New York Groove," the cover of the Hello song he did for his 1978 solo album.
Read on for Frehley's thoughts on Space Invader, his former bandmates Gene Simmons and Paul Stanley and what could have been an unforgettable meeting with the late late Robin Williams — if only he could remember it.
The feedback on Space Invader: "Some of the reviews have been so over the top, some think that I paid people to write the music. [Laughs] But you know, the jury's out. As far as I'm concerned, none of that means anything until the fans tell me what they think, because it's for the fans. I try to make records that my fans want to hear. My last album, Anomaly, most of my fans like that record, but some of the complaints was it wasn't heavy enough, I should have played more guitar, so when it came time to do Space Invader I kept that in mind."
The album's energetic vibe: "I was in a really good place [when I made it], and I'm glad that comes through with the music. A couple of the reviews have said that it sounds like I'm having a lot of fun, and the truth is, I was. I had 10 months to do it. I was working in a friend of mine's studio up in Turlock, Calif., inside a farming community. This guy's like a billionaire, he's got his private studio that he rents out from time to time but he gave me carte blanche, and we had a ball working there without any pressure, without having to look at the clock."
Mixing politics with music: "I don't think people in the entertainment business should get too involved in politics because it kind of blurs things. I want people to stay focused on my music, not because I don't want people to kill animals for leather. [Laughs] The whole PETA thing. I'm not saying it's wrong for other people, but my personal choice is no. Let's stay focused on the music. I don't want to be part owner of an [arena] football team. [Laughs] That's Paul and Gene's newest venture. The first thing that came to my mind [when I heard that] was, 'Hey, what about the music? Why don't you stay focused on the music?' It just seems like they're spreading themselves a little thin. Maybe you should focus on your records a little more and they'd be better. And you can quote that." [Chuckles]
If he's worried that such comments will deter Simmons from playing on Frehley's next album: "Oh, I'm not worried about what I say about Gene. Me and Gene have been mudslinging back and forth to each other for years. The press makes it out like we hate each other, [but] I could go over to any of their houses and hang out. I try not to get involved with all the rhetoric, but sometimes I can't hold back. I mean, Gene has the balls to go on the Internet the other day and say, 'Look, if you're a depressed person, kill yourself.' I don't think Robin Williams' family is too happy about his statements, you know? He used to say to me in the '70s every time I did something stupid, like I crashed a car or I got loaded when I shouldn't, he'd say, 'Ace, you're shootin' yourself in the foot.' Well, you can print, 'Hey Gene, you're shootin' yourself in the foot a lot lately.' [Simmons has since apologized about his statements regarding depression.] But I love the guy! I swear to God."
What he remembers about meeting Robin Williams: "Not much. We were both too loaded. [Laughs] You have any idea how many celebrities that I've partied with that I don't even remember? I had so many blackouts in the '70s. That's why when I write books I get together with old friends and old bodyguards and people that I've worked with over the years, and they start saying, 'Ace, remember this night? Remember that night?' That's how I got through [my autobiography] No Regrets, and I'm doing it again for my second book."
Embracing spontaneity: "That's the way I write guitar solos, that's the way I write songs. That's the way it should be. When I was in Kiss, sometimes those guys would do 25 takes of the song. And by the end of that period of time, there was absolutely no spontaneity. Invariably when that happened, we ended up going back in the next day and tracking it fresh because we're just burnt on it. For me, when I'm in the studio or I'm producing or I'm recording for myself, after three or four takes, take a break. It's gotta be spontaneous. That's what art is all about: being fresh and new and having the feeling and the emotion. I think that comes across on the record."