Intervju med Ace Frehley av abc News Radio: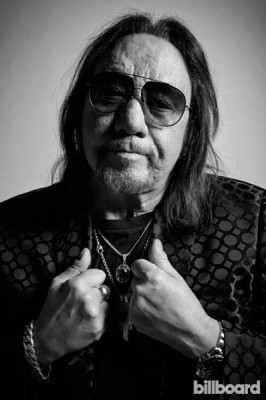 Ace Frehley Says He Was "Really Honored" to Be Inducted into Rock Hall; Knocks Paul Stanley's Acceptance Speech
After all the drama leading up to the induction of KISS' four original members into the Rock and Roll Hall of Fame this past Thursday, the feuding band mates behaved civil and friendly to each other while accepting the honor. Founding lead guitarist Ace Frehley tells ABC News Radio that he was "really honored" to be part of the ceremony, although he did direct some mild criticism toward frontman Paul Stanley, who took some shots at the Rock Hall and the way it goes about choosing inductees.
"I really didn't like some of the things Paul Stanley said in his speech, because obviously he's a little aggravated with the Rock and Roll Hall of Fame," explains Frehley. "I know he wanted to get other members in the group inducted."
Ace adds that "there was some political stuff going on," which led to disagreements about whether KISS would perform at the event. "Unfortunately we did not perform, even though I was up for it," he notes, adding, "I try to stay away from politics. I don't think politics and music work. I never did."
One of the big highlights of KISS' induction was the passionate introduction speech Rage Against the Machine guitarist Tom Morello gave for the band.
"Best introduction KISS has ever gotten from anyone, bar none, over the 40-year career," declared Ace. "I know Tom, and we spoke a few times before, but I didn't expect something that elaborate and that insane…It was wonderful and I thanked him wholeheartedly after, back behind the stage."
Frehley also praised Morello for lobbying hard to have KISS inducted into the Rock Hall in 2014. "Tom almost single-handedly is responsible for getting us in this year," he notes.
Meanwhile, Ace had announced shortly before the ceremony that he planned to participate in the traditional all-star jam that usually takes place at the end of the annual event, but that performance was canceled because the bash ran long. Frehley revealed to ABC News Radio that the song he would have played was AC/DC's "Highway to Hell." He explained that the tune was chosen because Bruce Springsteen — who was on hand to induct his E Street Band — had been playing it at some of his recent tour dates.
"It was nice because Tom Morello called me up and…gave me the link to YouTube and he goes, 'This is the arrangement. This is the key,'" he recalls. "So I learned it. It took me about 10 minutes, and I said, 'OK, I'm ready to go.' And then, right before Nirvana came on, I get the word that [the song was cut]."
Ace also reports that he didn't even get the chance to tell his old band mates goodbye at the end of the ceremony, because was he "was whisked away by my press people and did a ton of interviews."