Idag för 33 år sedan donerade KISS blod till deras första serietidning.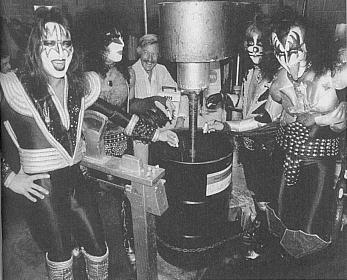 Men enligt rykten ska blodet hamnat i SPORTS ILLUSTRATED istället.
        Källa: KISS ASYLUM
The Marvel KISS comic book has real blood mixed-in with the red ink used in the printing of the comic books.

TRUE, but with a new twist.

The latest rumor about this is that the vials of blood from each member of KISS was poured into the red-ink vats at the printing company used by Marvel for their comic books. HOWEVER, the comic was delayed a day due to other problems and the people running the plant decided to print one of their other scheduled magazines instead while waiting for final problems to be ironed out on the KISS comic. By the time the KISS comic was ready to go, all of the blood-mixed, red ink was gone and a new batch was whipped up to take its place.

Therefore, all of the KISS comics have standard red ink in them. HOWEVER, there is a lost stack of SPORTS ILLUSTRATED from that week that is printed in "real KISS blood!"

Something to ponder. Something to think about. Only in the Urban KISS Zone.