Idag, den 24:e november 2010 är den 19 år sedan Eric Carr avled i sviterna av hjärtcancer, endast 41 år gammal. Innan Eric avled, låg han i koma på ett sjukhus efter att ha fått en hjärnblödning strax efter att de spelat in videon till God Gave Rock N Roll To You. Det blev hans sista framträdande med Kiss. Två dagar efter inspelningen drabbades han av hjärnblödningen och blev därefter liggandes på sjukhus fram tills han avled. Gene sade i Kissology 3 på kommentatorspåret att det var lite ironiskt att den sista låten han spelade in med Kiss var God Gave Rock N Roll To You.
Freddie Mercury, sångare i Queen, avled också den 24:e november 1991 i sviterna av AIDS.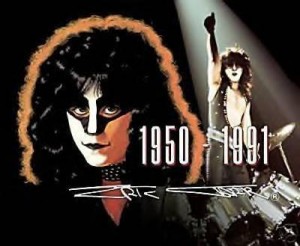 We will never forget the one and only Eric Carr!