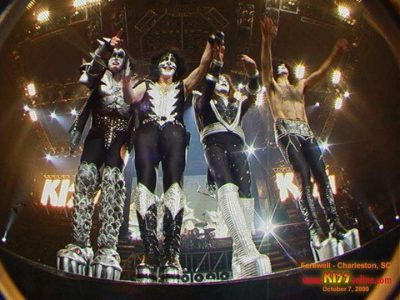 KISSTORY
On this day in KISSTORY, the original lineup play for the last time together and say farewell to Charleston 18 years ago!
October 7, 2000
Charleston, South Carolina
North Charleston Colesium
Promoter: C&C Concerts
Opening Act: Skid Row
Reported attendance: 7,888 / 8,652 (91.17%)
Set list:
Detroit Rock City
Deuce
Shout It Out Loud
I Love It Loud
Shock Me
Firehouse
Do You Love Me?
Calling Dr. Love
Heaven's On Fire
Let Me Go, Rock 'N' Roll
2,000 Man
Psycho Circus
Lick It Up
God Of Thunder
Cold Gin
100,000 Years
Love Gun
Black Diamond
Beth
Rock And Roll All Nite
– Though it was kinda obvious at the time this show marked the end of the "Farewell Tour," and Peter Criss' reunion with KISS.
– He trashed his drum kit at the end of the show, and had been incorporating a tear-drop into his make-up for quite a while… The "Cat" wasn't happy…
– It wasn't publicly known at the time, for the "tear-drop" was yet to appear, but there were problems in "Cat-land."
– Peter Criss effectively left the band following the final "Farewell" show in Charleston, SC in October 2000. His "Reunion" contract had essentially expired and he and KISS were unable to come to terms for him continuing with the band for the international leg of the "Farewell" in Japan and Australia. He was replaced by Eric Singer.