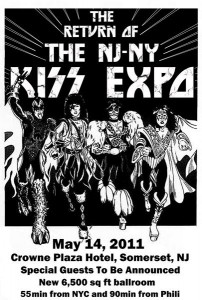 Några videos från NY Kiss Expo 2011 av Bill Baker/Ace Frehley Archives.
Lisa Persky, who played "Dirty Dee" in "Kiss Meets The Phantom" along with Victor Stabin, who did the "Unmasked" album cover art, speak at the NJ Kiss Expo on May 14th. 2011.
Eddie Balandas and J.R. Smalling, Kiss' first tour manager and voice of "Kiss Alive!" talk up some Kiss at the NJ/NY Kiss expo.
Here's a clip of Eddie Balandas, security and employee of KISS back in the 70's. It's his voice that introduces them on the "Alive II" album.