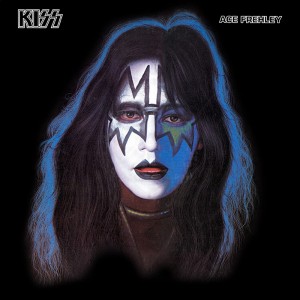 "Ace Frehley" är ett soloalbum utgivet av KISS-medlemmen Ace Frehley den 18 september 1978.
Casablanca NBLP-7121 (US, 9/18/78)
Casablanca NBPIX-7121 (US, Picture Disc)
Casablanca/PolyGram 826-916-1/2/4 (US Reissue 5/2/88, CD, 2/16/88)
Mercury 532-385-2/4 (US Remaster, 9/16/97)
A1. Rip It Out (3:39) – Frehley/L. Kelly/S. Kelly
A2. Speedin' Back To My Baby (3:35) – A. Frehley/J. Frehley
A3. Snow Blind (3:54) – Frehley
A4. Ozone (4:41) – Frehley
A5. Whats On Your Mind? (3:26) – Frehley
B1. New York Groove (3:01) – Ballard
B2. I'm In Need Of Love (4:36) – Frehley
B3. Wiped-Out (4:10) – Frehley/Fig
B4. Fractured Mirror (5:25) – Frehley
Ace hade bara frontat micken två gånger innan detta soloalbum, debuten kom 1977 med låten "Shock Me" från det framgångsrika albumet "Love Gun", senare på "Alive II" på en av de fyra nya studio låtarna nämligen "Rocket Ride". Ace spelade dom flesta instrument på albumet förutom trummor, där fick Anton Fig äran att lira på skinnen, även Carl Tallarico fick också medverka på trummorna.
Många antog att Ace inte var kapabel att klara av att spela in en hel skiva i tid (läs Paul och Gene) med tanke på Ace drog problem och bristande engagemang då det kom till Kiss.
Men Space Ace överraskade nog dom flesta med att spela in en riktig rökare till platta, soundet är skitigt och opolerat precis som vi älskar Ace för. Detta soundet kan vi nog tacka producenten Eddie Kramer för.
Lite rolig nörd fakta från detta album är att på låten" What's On Your Mind" spelar Ace på en 12-strängad gitarr, samt att Ace spelar på en Double-neck gitarr på låten "Fractured Mirror". Även hans fru Jeanette var med och skrev låten "Speedin' Back To My Baby".
Ace fick en hit med låten "New York Groove" skriven av Russ Ballard som tidigare spelades in 1975 med gruppen Hello.
Trots att Ace Frehley aldrig hade samma sång kvalité som de övriga gruppmedlemmarna, dessutom runt denna tidpunkt missbrukade stora mängder alkohol, blev hans soloalbum det mest framgångsrika av de fyra, mätt i sålda album.
Så mitt betyg till denna platta kan inte bli bättre än 5 Ufo`n av 5 möjliga, detta album är och förblir en riktig rock klassiker.
Keep Kissin.