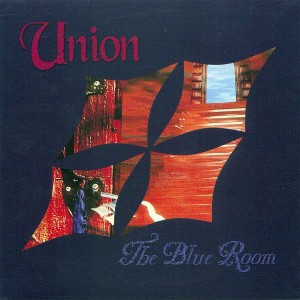 Att få sparken från ett av världens största rockband skulle knäcka den bäste, men varken Bruce Kulick eller John Corabi däckade ner sig. De tog helt enkelt tag i det själva, bildade bandet Union, och nu släpps deras tredje album sedan starten 1998, The Blue Room.
Utan omsvep kan jag säga att The Blue Room vid en första lyssning inte spred några positiva vibbar i mitt huvud. Kanske var det den ovana känslan av att vakna upp i en turnébuss efter timmar av dålig sömn lutad mot ett fönster eller något annat obefintligt distraktionsmoment, men en sak är säker, skivan växer något enormt efter ett par lyssningar. Vid det här laget är jag totalt såld!
The Blue Room inleds med den punchiga "Do Your Own Thing" (tillika den första singeln) som vittnar om ett delvis ösigare Union än vad vi fick höra på debutalbumet. Ett bastant packet rock n' roll kryddas med ett vasst Kulick-solo i bästa Chuck Berry-anda (eller Dregen-anda för yngre läsare). "Who Do You Think You Are" och "Dead" är två spår som står ut med riktigt starka riff, något jag personligen saknade tidigare. Den förstnämnda spelades på bandets turné i Skandinavien förra året och är, liksom "Everything's Alright", låtar man inte glömmer i första taget. Min kanske absoluta favoritlåt på albumet är "I Wanna Be", som bjuder på ett snyggt stråkarrangemang, ett genomarbetat solo och en riktigt bra text. Vad mer kan man begära?
Något så ovanligt som ett spår med Bruce Kulick på sång hittar vi också på skivan. Låten heter "Dear Friend" och är skriven som en hyllning till Eric Carr. Personligen har jag lite svårt för Bruce som sångare, han saknar den karisma som utmärker vana vokalister. Ungefär samma uppfattning har jag för övrigt om Ace Frehley på den punkten. Nämnas bör dock att Bruce, trots sin korta erfarenhet, klarar uppgiften med bravur, och får bra backning av John i refrängen. Psykadeliska "Do You Know My Name" och skivbolagsfavoriten "Shine" ligger för mig snäppet under gräddan, men håller sig dock med marginal ovan den förrädiska ytan till utfyllnad.
I enkla termer kan man säga att bandet tagit ett steg tillbaka, men två steg framåt. Skivan bjuder på rakare rock med bibehållna melodiösa gitarrslingor och spännande stråkarrangemang. Musikaliskt sett har Bruce Kulick aldrig varit bättre. Hans gitarrspel är väldigt inspirerande, långt bortom det 80-tals debacle han lätt snurrade in på före vändningen med Kiss Revenge 1992. I vanlig ordning är jag också imponerad av John Corabis vokalistiska insats. Han var bra på Mötleyplattan 1994, bättre på Unions debutalbum, och ännu en snäpp vassare på The Blue Room. Brent Fitz och Jamie Hunting representerar båda en ytterst kompetent skara kompmusiker som vet hur man tar ett steg extra, utan att falla utanför ramarna och trilla ner i ett hav av egoistiska utsvävningar. Tillsammans bildar de fyra en stark sättning som verkligen verkar ha hittat varandra musikaliskt!
Avslutningsvis kan jag bara konstatera att Union är det bästa band som bildats av en före detta KISS-medlem, bättre än Frehley's Comet, Criss, Vinnie Vincent Invasion och White Tiger – med bred marginal! The Blue Room släpptes i Sverige av Playground den 22 februari.
Stefan Cedervall
Reporter
KISS Army Sweden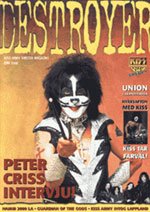 Artikel ur Destroyer 7