Postat av Niklas - Crew i
Nyheter
den 16 april 2012 |
ingen kommentar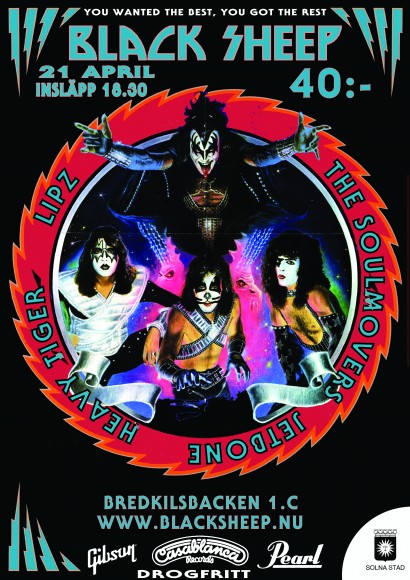 "Rock N' Roll Over."
(En hyllningskväll till KISS)
Den 21:a april kommer Marshallförstärkarna dåna likt en jumbojet över Solna. Vi kommer använda så mycket scenljus att "brun utan sol" kommer få en ny innebörd. Ungdomarna från Black Sheep skall hylla världens största rockband KISS och de kommer göra det på det sättet KISS skulle bli stolta över; "Larger than life"
Aldrig tidigare har vi använt så mycket högtalare, ljus och scenshow. Detta är Black Sheeps största produktion hittills i historien. Sju ungdomar har jobbat dag ut och dag in i fyra månaders tid för att göra detta möjligt.
Ledorden har för dessa sju ungdomar har varit att göra konserten over the top. De har bokat band som kommer leverera en show och dessutom krydda det med en KISS hyllning per band.
Banden för kvällen är: HEAVY TIGER, THE SOULMOVER, JETBONE & LIPZ
Dessa band är riktigt på gång, samtliga spås en väldigt ljus framtid i rock-Sverige och vi är mycket stolta över detta starfält. Allt annat än slutsålt ses som ett misslyckande så häng på låset 18:30 för detta är en rockkväll som kommer gå till historien.
Detta arrangemang riktar sig till ungdomar och alla med en skivback innehållande labeln Casablanca.
Detta arrangemang är helt drogfritt precis som Gene Simmons vill ha det!
ROCK N `ROLL ALL NITE AND PARTY EVERY DAY!
BLACK SHEEP
Black Sheep är inte en ungdomsgård med musikprägel, utan kan snarare beskrivas som ett musikhus där besökarna förväntas engagera sig. Det är deras önskemål, drömmar och insatser som driver verksamheten. Ledarna med sina bakgrunder som fritidsledare och professionella musiker finns där som stöd och möjliggörare för de unga som vill något som musiker, arrangörer, roddare, marknadsförare etc. Men vi gör inte jobbet åt dem.
Att detta varit ett både utmanande och vinnande koncept kan personalen intyga.
"Ska man arbeta på allvar med ungdomsdemokrati måste man lära sig att själv hålla tyst", är en av många insikter som formulerats fram under resans gång och som kommit till användning nu när de börjar bli anlitade som föreläsare och inspiratörer i ämnet.
Ett flertal band och artister ur Sveriges toppskikt har både repat, spelat in videos och framträtt på Black Sheep. Ett av dem är hårdrocksbandet Mustasch, en av dominanterna på den svenska rockscenen sedan flera år. I en radiointervju nyligen sa de att det är "ställen som Black Sheep som gör att Sverige har en bra musikexport". Det uttalandet skulle kunna sammanfatta många kommentarer som verksamheten fått ta emot genom åren.Allt tyder på att verksamheten kommer att frodas och utvecklas i samma höga puls som hittills. Det är åtminstone ledarna förvissade om, som i ett nyhetsbrev beskriver förutsättningarna: "Vi sitter på 200 ungdomar, en nerlagd skola, kommunal lön och en jäkla glädje!".Ni är hjärtligt välkomna till denna kväll, hjälp oss sprida detta event på alla tänkbara sätt.
Nu är det just din tur att få ta del av vad vi har att erbjuda.
TACK // Black Sheep