Artikel från Classicrock Magazine: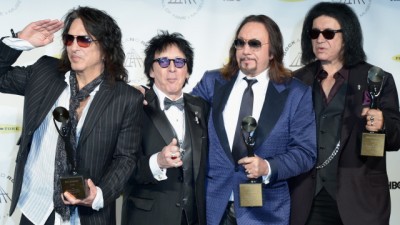 SIMMONS HAILS KISS 'FANTASTIC FOUR' AT ROCK HALL
Original lineup put differences aside for induction – but Stanley takes opportunity to slate organisers from their own stage
Gene Simmons last night hailed the original lineup of Kiss as the "fantastic four" during their induction into the Rock And Roll Hall Of Fame.
And Paul Stanley took the opportunity to slam event bosses from their own stage, calling for more people power in the choosing of artists to receive the honour.
Relationships between the two mainmen and ex-colleagues Ace Frehley and Peter Criss had come under additional pressure in the run-up to the ceremony at the Barclays Center in Brooklyn. Simmons and Stanley refused to allow any lineup to perform after Rock Hall bosses tried to enforce a reunion. Stanley even accused his estranged bandmates of being anti-Semitic earlier this week.
But all differences were put aside when – following an induction speech by Rage Against The Machine guitarist Tom Morello – Stanley, Simmons, Frehley and Criss took the stage together and briefly embraced.
A passionate crowd alternately offered vocal support and catcalls during their speeches. Simmons said: "We are humbled. This is a proud moment for us all. Four knuckleheads 40 years ago got together and decided to put together the band we never saw on stage, critics be damned.
"Ace Frehley, whose iconic guitar playing has been limited but never equalled by generations of players around the world. Peter Criss, whose drumming and singing – there's not a guy who beats him. Nobody's got that swing or that style. Paul Stanley is the brother I never knew I had. You couldn't ask for someone so awesome."
He namechecked late members Eric Carr and Mark St John and thanked Vinny Vincent and Bruce Kulick, then added: "Here we are 40 years later with the great Eric Singer and Tommy Thayer – however, we wouldn't be here today without the original fantastic four."
Drummer Criss thanked everyone from crew to management who'd helped with the band's four-decade "good times and hard times" before adding: "I'd like to congratulate Mr Stanley, Mr Simmons and the one and only Spaceman, Ace Frehley."
He added: "In and out of makeup I'll always be the Catman. You've got to forgive to live – it's very important. I will remember this for the rest of my life."