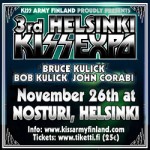 Några videos från Kiss Expo Helsinki som var i helgen:
We had the third annual Kiss Expo here yesterday in Helsinki and the special Guests were Bob and Bruce Kulick, John Corabi, Gordon Gebert and KISS
FOREVER band. The most interesting person in my opinion was Bob Kulick who was in Europe for the first time since 1996.
There were maybe 200 fans attending the expo and sellers from Sweden and Finland.
Here are some videos, the first one Bob and Bruce are telling about Killers and Creatures sessions and the death of Eric Carr and how the band reacted for that and their future plans.