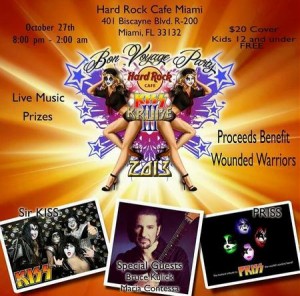 You are all cordially invited to attend what is sure to be an AMAZING evening on Sunday, October 27, 2013.
This is no ordinary party, it is a benefit for the Wounded Warriors Project. It is also a chance to get to know fellow Kruisers and other KISSaholics from far and near in a very special way while sharing the excitement of kicking off what is the voyage of a lifetime~The KISS KRUISE!
This party is unique in that it has been taking place at the Hard Rock Cafe Miami every October since 2011 when the very first KISS KRUISE was launched. This has therefore now become a beautiful tradition…a tradition we hope you will join us for and be a part of.
www.facebook.com/events/317426801737044/
THIS IS A FAN-PRODUCED EVENT, FOR THE FANS.