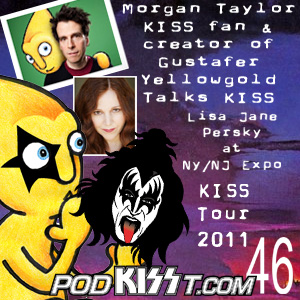 Då var det dags för en ny PodKisst, PodKISSt #46 KISS, Dee, and… Gustafer!
Every now and then, the influence of KISS shows up where you might not expect to find it! On this edition of the PodKISSt we are joined by acclaimed songwriter, musician, and graphic artist Morgan Taylor (AKA "Red Yogurt Bath" on the KISS forums). Morgan is a long-time KISS fan and the creator of "Gustafer Yellowgold," a multimedia experience blending music and animation. "Gustafer Yellowgold" has received rave reviews as both a series of DVD/CD packages as well as a touring live show for all ages, and Morgan was a recipient of the Grand Prize in the 2008 John Lennon Songwriting Contest. Morgan joins us to talk about the influence of KISS on his life and career. Check our links section to learn more about Gustafer, and be sure to join him on his summer tour of the States!
If that ain't enough, we're treated to an exclusive interview with Lisa Jane Persky ("Dirty Dee") recorded at the 2011 NY/NJ KISS Expo. All that, plus exclusive audio from KISS' explosive performance in Sacramento last month, right here on PodKISSt… the KISS fanzine for your ears!
Be sure to check out the song "Beehive" (featuring Wilco's John Stirratt & Pat Sansone) and see what happens when Gustafer attends his first KISS-style concert… in a beehive!
PodKISSt #46 - KISS, Dee, and… Gustafer!