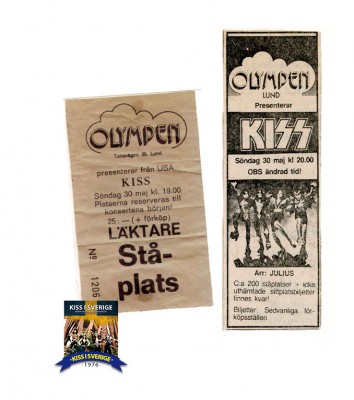 Det sista giget på svensk mark 1976, och Peters likalydande fram till återföreningen tjugo år senare. Här lyser bandet på det sätt som vi vill minnas dem göra. Ljudupptagningen från konserten är bra och visar ett band som kör fullt set och som verkar ha en jäkla energi tillika skitroligt på scen. Man kan i efterhand fundera på varför just Lund var giget som drog det längsta strået. Var det Göteborgs skrala publikunderlag och Stockholms alltför stora (?) scen som fick bandet att längta efter något mer intimt men fullsatt och energiskt? Europaturnén i stort är inte deras bästa generellt sett, och i efterhand har vi fått veta att flera medlemmar i bandet ansåg Europa vara ett skitställe med sina små städer, små hallar och söndags- (och i vissa fall lördags-)stängt. Dock, faktum kvarstår – i Lund lever bandet upp.
Alex Bergdahl
Det är 38 år sedan bilderna togs, vill du uppleva mer av 1976 spelningarna så rekommenderar vi boken " KISS I SVERIGE – Boken om KISS alla Sverigebesök 1976-2013"
Klicka för mer information om boken!
 Kiss: Lund, Sweden 1976-05-30 [FULL SHOW]
Live @ Olympen, Lund, Sweden 1976-05-30. This is the only complete audio from the gigs in Sweden 1976.
Deuce
Strutter
Flaming youth
Hotter than hell
Firehouse
She
Nothin' to lose
Shout it out loud
100,000 years
Black diamond
Detroit rock city
Rock and roll all nite
Let me go, rock 'n roll