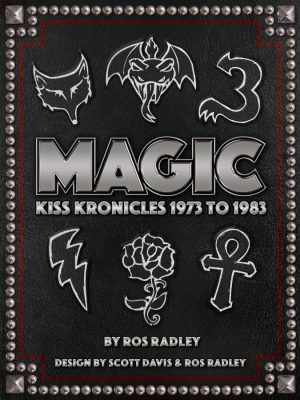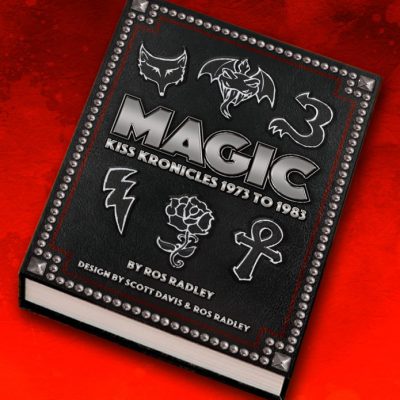 Senaste nytt från Ros Radley om sin kommande bok "MAGIC – KISS Kronicles 1973 to 1983":
I'm very proud to present the official cover of "MAGIC – KISS Kronicles 1973 to 1983".
Scott Davis and I have been hard at work on this cover for several months. We tried many different concepts and finally found one we believe captures the essence of KISS during their first ten years. It is very likely that we will have a limited edition of the book with actual leather and metal studs available for purchase along with the regular hard cover version.
I specifically had a few goals I wanted to achieve with this cover:
1. No KISS logo or photo/illustration of the KISS members.
In order to avoid any legal complications and to attempt something unique, I designed an icon for each band member active from 1973 to 1983 (my options were limited for Vinnie Vincent and I decided to use a stylized version of the ankh design). I feel most KISS fans will easily recognize and understand which icon belongs to which KISS member.
From a marketing point of view it may seem that not having a prominently displayed KISS logo and KISS makeup designs would be a mistake. However, because MAGIC is much too detailed for the casual KISS fan, I really don't believe I'll be losing many sales due to lack of recognition or misunderstanding of the cover. If, by some chance, MAGIC becomes an official KISS book I may consider replacing the icons with an illustration of each respective KISS members face.
Also, I understand there are many KISS fans who feel strongly that only the original four KISS members should be allowed on the cover of a book like this, and that Eric Carr, and especially Vinnie Vincent, were not in the band long enough to justify their inclusion on the cover. Well, I strongly disagree. Eric and Vinnie both made significant contributions to KISS during their tenure with the band and both have passionate fans who deserve to see their heroes on the cover of this book, and they shall.
2. Find a unifying, visual element that best represents the years 1973 to 1983.
Leather, studs, spikes and chrome are the very foundation on which KISS's visual appeal was built. We tried many other approaches but once we decided on this one we knew we had the strongest theme to represent the first ten years of KISS.
3. Do not copy a specific design that KISS has already used.
Rule #1 – absolutely NO die nasty font. I feel that font has been overused and that we could easily find an equally effective one.
At one point we had a design that was based on the pink KISS logo used for the Alive album booklet. As cool as that looked, ultimately, I decided to try something less derivative. I believe we've succeeded.
We also considered subtly incorporating each band member's color as seen on the solo albums but, in the end, I felt just a small bit of red pin stripe was enough to effectively compliment the main black and silver theme.
MAJOR UPDATE:
It has been a year since I launched the Kickstarter campaign and I have been steadily working on the book on a daily basis with hopes to have it complete by the end of 2016. Originally I had planned to have it done by September 2016 but the writing got delayed by a flood of contributions from many fans/photographers who are graciously allowing me to feature their rare, unpublished photos in the book. As most of these photographers did not have high resolution, digital versions of their images, I had to spend countless hours scanning and digitally editing the original slides/negatives in order to get the best quality image for the book. I believe it was time and effort well spent and these photos will be just one more reason that MAGIC will be unlike any other KISS book.
My current plan is to have the book complete by December 2016 at which point I will launch a website that will feature sample pages from each of the years covered in the book. On that website you will be able to preorder a copy of the book for $75 (that price is subject to change). Once enough preorders have been placed to cover the cost of printing and photo licensing there will still be a few months before the book is actually ready to ship. Just a reminder, the book is going to be at least 500 pages, hard cover, full color, glossy pages, loaded with detailed information in chronological order and rare, unpublished photos to illustrate it all.
Again, MAGIC is a book unlike any other KISS book before. My dream was to make a book that would provide as much detailed information about KISS's activities from 1973 to 1983 as possible as well as feature as many rare, amazing KISS photos as can be crammed into 500 pages without sacrificing quality for profit. Believe me, THE DREAM LIVES!
I really want to thank the incredible Scott Davis for his patience, creativity and belief in this project. He is without a doubt the right man for this job and I'm blessed to have him as a partner on this adventure.
I also want to send my heartfelt gratitude to all the amazing KISS fans supporting this book. You're words of encouragement are greatly appreciated and I promise you this, MAGIC will be worth the wait.
Onward and upward,
Ros Radley