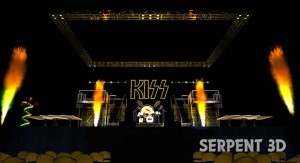 Nu har Serpent 3D  gjort Love Gun scenen i 3D.
Stage scenography: Kiss «Love Gun»

Latest stage scenography video: In our third and final 3D animation of stage scenography, we present Kiss' «Love Gun» stage, used for the first time in Kiss' debut concert in Japan on April 2nd 1977. All hydraulic features as well as most lighting-, pyro- and smoke effects are simulated. Whether planning to go through with a large scale stage presentation like this or wanting to preview a smaller setup, 3D visualization can be a great tool to evaluate your project. Although this concludes the stage scenography project, you may expect to see updated versions of all stages to unify and improve modelling, colour palettes, and effects.

According to Kiss late manager Bill Aucoin, the «Love Gun» stage set was designed and built by Kenny Anderson, head of the production department at Aucoin Management. The group had not seen the stage before leaving for Japan, a stage set which in hind sight questionably has become the most classic and loved stage set by legions of fans around the world. Prior to 1977, the band had experimented with large scale stage presentations, but the above stage set was the first to include multiple elevators and hydraulic features. For the first time, the fans also got to know what was to become the bands mascot, Sam T. Serpent, which fit perfectly into the Kiss image.

The size of the stages had kept growing in conjunction with the popularity of the band. In fact, two Boeing 747's were used to bring the band to Japan. One conventional passenger version for the band, staff and press, as well a freighter for the stage set. Due to the sheer weight of the stage, which was significantly heavier than expected, the two pilots flying the freighter finally decided to fly unpressurised in order to handle the weight of their cargo.
Källa www.serpent3d.net