En artikel från kissarmyspain.com om KISS AND IRON MAIDEN EN EL 'UNMASKED TOUR' 1980 , artikeln är översatt till engelska via Google translator. Glöm inte att besöka kissarmyspain.com.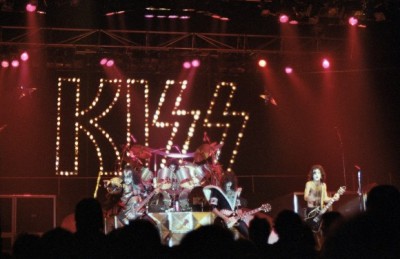 KISS AND IRON MAIDEN EN EL 'UNMASKED TOUR' 1980
They revered as myths generation rockers born with the wave of heavy English rock in 1980 , despite the fashions and music trends that were becoming greater , admiration , devotion and enthusiasm circled to Iron Maiden increased steadily with over the years.
They released an EP that was released in the winter of 1979 ; It could only be purchased by mail, but those four songs from Iron Maiden called public attention . Shortly after opening for Motorhead acted , and later obtained a resounding success at the Marquee in London, to the extent that the weekly Sounds presented by Def Leppard and Saxon, as the best promise of the new heavy metal Anglo . The company EMI jumped at the chance to hire them , encouraged by the success of a crop of new bands promoted by Neil Kay himself .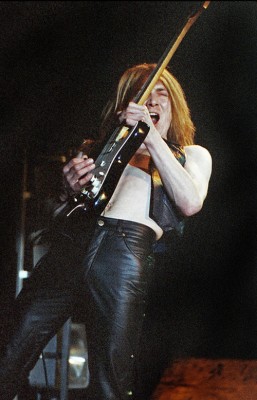 Iron Maiden tour would start in the " Metal for Muthas " festival with Samson , Praying Mantis, and other bands of the new Metal movement in England. While Iron Maiden was growing thought in detail in the extra element that would give Iron Maiden strong enough to be able to rub shoulders with the most powerful bands in the world , and after this need appear "Eddie" .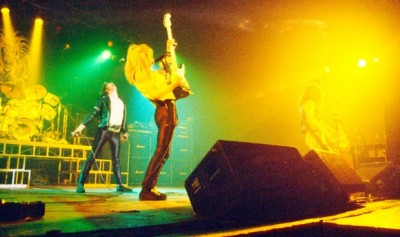 Eddie comes the show that was KISS in the world , and their theatrical ability . Several members of the band were fans of KISS , so they decide to put the little touches Eddie mask a volunteer in order to bring them to this show that produced the American band .
On February 18 would be the official launch of the band 's first single , "Running Free" . Paul Di'anno , Dave Murray and Dennis Stratton and Clive Burr Steve Harris formed the band . "Running Free" was composed by Harris and Di'anno and reached up to 40 positions of the ranking 's Englishmen reason that encouraged the band to continue attacking the world with his music. Meanwhile in the U.S. the popular group KISS praised the British band and made ​​known his intentions to make the tour of England along with Iron Maiden.
While the album debuted at number four in England, " Sanctuary" ( Murray, Harris and Di'anno ) came up at number 29.
Thanks to this, Iron Maiden achieved register as the band that would accompany Judas Priest on tour in England. And after that ,would be official European tour opening for KISS ! With over 40 concerts in countries like Belgium, Holland, Germany, Sweden and others.
Kiss tour England and Europe had already been hired and the tickets were on sale in many cities. The shows were being promoted as the usual group of four, with their faces close-up photo of the cover of his album last year Dynasty . Many of the entries were printed in full color on a pattern twice as big , with photo of Kiss and the heading " The American supergroup Kiss" in bold. The lockers in Germany, Sweden and England were flooded by hordes of fans queued getting three deep for tickets . But there was one big problem with this promotion. Kiss were now without Peter Criss group. The obvious solution was to announce that Peter was ill. The tour was canceled , and April 17, 1980 , a press release was issued.
Already with Eric Carr on drums and staking the tour would begin in Rome in late August , is not the most appropriate time of year to start a European tour since the summer holidays leave empty half the major cities . But they were no alternatives ; Kiss had to play in Europe this year and toured Australia was already preparing to late autumn.
Kiss had never played in Italy, and the show in the old Vigorelli Velodrome stadium in Milan almost became a disaster. When Kiss started playing the hit " I Was Made For Lovin 'You" a hit in Italy and most of Europe, the crowd went crazy . When carried as an hour show, a group of leftist militants took the stage after outwit security people jumped on stage shouting "Kiss fascists! Kiss fascists! "Kiss stopped short concert . The music stopped in front of an audience of 30,000 people , Kiss left the stage . After half an hour the band returned to the stage to finish the show.
Germany had 11 tour dates . Munich and Stuttgart worked well , but outdoor show in Frankfurt, near the American military base, had a poor turnout as rain and strong winds swept the region. Scandinavia was always great for Kiss, and Oslo and Stockholm huge audiences dragged their elders pavilions ice . France was not a country with many Kiss fans , especially in the provinces . Except in Paris, where he worked well .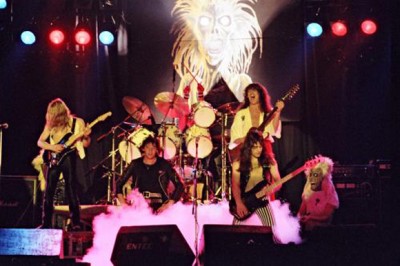 For two months; Iron Maiden performed in Italy, Germany , France, Switzerland , Netherlands, Sweden, Denmark , Norway and Belgium again . The performance Oct. 13 in Norway , particularly in Drammen, was the last with Dennis Stratton. The guitarist was fired shortly after musical differences and replaced by Adrian Smith.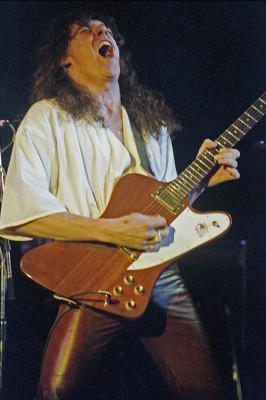 Dennis Stratton [ former guitarist of Iron Maiden ] " In 1980 , after playing a few dates with Judas Priest , KISS asked us to accompany them on their tour was going to be pretty good. Seria Europe and Scandinavia. Then they did not want us to open their concerts in England because we had too many fans there and that hurt them . It was strange, because I had been touring with Status Quo in the 70's and other bands, and I always liked to share the road. I do not look like they had a band headlining and support each other as to open a show for me was a spectacle. No egos me. I love talking to the musicians. I do not like the friction between the bands . "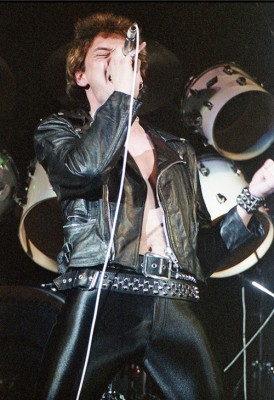 Paul Di'Anno : " We were invited to open a bunch of dates in Europe, all the guys in KISS were great with us, especially Gene Simmons , who went to financial aid and stuff. Yes, it was fantastic, he behaved really well. It really helped us all a lot. But Gene Simmons especially behaved with me very well. He was taking care of my money [then it was not exactly my strong point ] in fact, he was administrándome my money and gave me what is necessary when I really needed , which prevented me eat garbage. Gene treated me like a son , he taught me what to do and what not to do . We started this tour supporting Kiss , and suddenly , we became a very popular band . That was , we were the band we opened KISS concert . It is also during this tour that the problems started with Dennis Stratton. "
Dennis Stratton [ former guitarist of Iron Maiden ] "At the beginning of the tour Rod Smallwood [ Manager of Iron Maiden ] made ​​it clear that he did not want any of us to people we mezclásemos KISS and unfortunately that was the beginning of the problems between Rod Smallwood and me. I'm not that kind of person . I got to know Gene Simmons and Paul Stanley really well. I became good friends with them since the beginning of the tour. They took me to the stage in Stockholm during my birthday in October. Paul Stanley gave me a case of fireman with his autograph to use for a song called ' Firehouse ' . We were invited to eat me and Dave ( Lights ) Beasley [ Dave Beasley then in charge of lighting, pyrotechnics and other effects of Iron Maiden ] Great guys , and that was a time when wearing makeup. There were people who took pictures at the restaurant and were quickly thrown away because they did not want their identity was shown . We also got together with the Maiden road crew with them like you could have a laugh . "
Paul Di'Anno : " On the birthday of Steve Harris took the stage and filled us all face and hair cream cake , everyone was crazy , running and started a war of cakes. KISS had to delay the show about an hour or so, while returning to change all their makeup and costumes, clear the stage and all that that entailed . Well , it was fun , it was a really great tour. "
Bruce Dickinson : " I met with the people of Maiden in Avignon , France in September 1980 , they and their ghoulish mascot Eddie were the band that opened shows for KISS. I spent some time with them and their manager Rod Smallwood . I noticed that they had some internal problem in the band later guitarist Stratton was replaced by Adrian Smith while Di'Anno left after recording the album 'Killers ' . "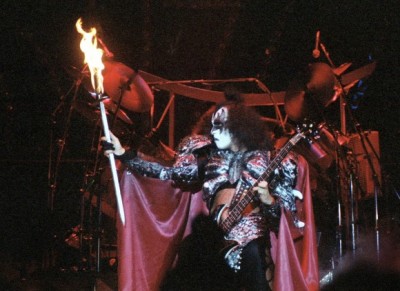 Gene Simmons : "I love Iron Maiden, and must be great to be in that band , they run a little but even sweat . Being in KISS is a fucking backbreaking work . Even when standing still with platform boots 17 inches , with 20 kilos of armor, you sweat up the balls ; around you no fireballs, I spit fire … At the end of each concert we are exhausted . "
Paul Di'Anno : "Gene Simmons came backstage band and ordered a shirt from Iron Maiden. I knew that KISS is not used to make shirts of other bands , so I asked : " Why do you want a T-shirt Iron Maiden if you're not going to be put ? " , To which Gene replied, " Yes, it's true , but I know I will have the shirt of a group that goes straight to success. "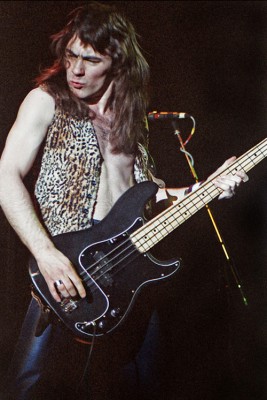 Steve Harris : " All we wanted to do was go out and play . We traveled everywhere with KISS , there were lots and lots of screaming girls , it was amazing. Boys running down the road to get tickets . Lots of fans came to the concerts so that they signed autographs . After the European tour with KISS, our debut album went gold in several countries , such as Sweden and France. It was a very successful tour in Europe supporting KISS. "
When the tour ended , Kiss had played 39 shows in Europe and England. Wherever you were playing , causing a major impact on the fans and the press . The photos splashed the front pages of newspapers, magazines and music papers . The media hype given as an American phenomenon with a fabulous stage show . But Kiss suffered with too wide for some production sites in Europe. Sizes varied audience , from stadiums in Italy with 30,000 to 3,000 in some parts of France . Audiences in England and Scandinavia were the most consistent , reaching 10,000 to 20,000 people in some cities. The best showcase for Iron Maiden was the European tour with KISS.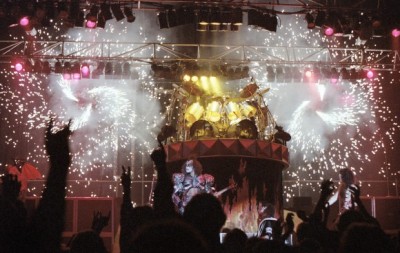 Iron Maiden opened 24 concerts for KISS during the "Unmasked Tour" between August and October 1980:
29.08.80, Roma, Italia, Castel St.Angelo
31.08.80, Genova, Italia, Palasport
02.09.80, Milano, Italia, Vigrelly
11.09.80, Nürnberg, Alemania, Messehalle
12.09.80, Düsseldorf, Alemania, Philipshalle
13.09.80, Frankfurt, Alemania, Rebstock Gelände
15.09.80, Dortmund, Alemania, Westfalenhalle
17.09.80, Stuttgart, Alemania, Sindelfingen Messehalle
18.09.80, Munich, Alemania, Olympiahalle
20.09.80, Kassel, Alemania, Eissporthalle
21.09.80, Brussels, Belgica, Vorst National
23.09.80, Avignon, Francia, Parc Des Expositions
24.09.80, Lyon, Francia, Palais Des Sports
27.09.80, Paris, Francia, Le Bourget Exhibition Centre
28.09.80, Basel, Suiza, St.Jacob Halle
30.09.80, Köln, Alemania, Sporthalle
01.10.80, Bremen, Alemania, Stadthalle
02.10.80, Hannover, Alemania, Niedersachsenhalle
04.10.80, Hamburg, Alemania, Ernst-Merck-Halle
05.10.80, Leiden, Holanda, Groenoordhalle
09.10.80, Stockholm, Suecia, Eriksdalhallen
10.10.80, Gothenburg, Suecia, Scandinavium
11.10.80, Copenhagen, Dinamarca, Broendbyhallen
13.10.80, Drammen, Noruega, Drammenshallen
Article by Fernando Martínez | Kiss Army Spain
Vi tackar Kiss Army Spain!