Postat av Niklas - Crew i
Nyheter
den 25 mars 2013 |
ingen kommentar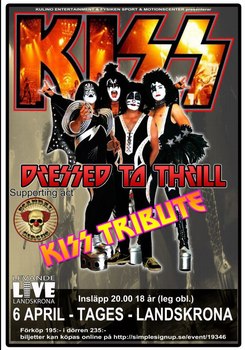 Dressed to Thrill fulländar illusionen av att uppleva en klassisk KISS-show Bandet består av erfarna musiker med en gemensam kärlek för "The hottest band in the world". De har jobbat hårt på varenda detalj, både gällande musiken och showen, för att komma så nära originalet som möjligt. Kostymer, smink och instrument; inget har lämnats åt slumpen!
Dressed To Thrill bjuder såväl på hitsen som de lite mer ovanliga låtarna i Kiss musikaliska skattkammare, och kan lova att publiken lämnar konserten med ett stort leende på läpparna. Naturligtvis innehåller showen även inslag som eldsprutning, blod, konfettiregn och krossade gitarrer.
Under hösten gjorde bandet en show på Malmö konserthus tillsammans med Malmö Symfoni orkester, MSO. En stor succé som besöktes av ca 6000 personer.
Alltid lika aktuella KISS släppte i oktober 2012 sitt 20e studioalbum, den 30 januari 2013 firar man 40års jubileum och bandet är ute på världsturné med stopp i skandinavien i juni 2013.
Detta uppmärksammar Dressed to Thrill med att göra 2013 till ett år av Tribute To Kiss, ett koncept man inte vill missa!!
Dressed to Thrill Promovideo 2012
Support act: Scandal Circus
Begränsat antal biljetter! Dörrarna öppnar 20:00
På scen: Scandal Circus 21:00 Dressed To Thrill 22:30