KISS presenterade igår sin första kryssning som lämnar Miami, Florida den 13:e oktober och är åter ihamn den 17.e oktober. KISS skriver och informera följande på sin hemsida: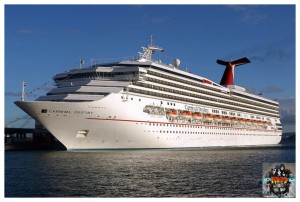 SHIP WILL SET SAIL OCTOBER 13-17, 2011
Hello KISS ARMY!
We know you have been waiting patiently for the big news…and here it is!
The KISS Kruise: Wet, Wild, & Rockin'
Sailing on the Carnival Destiny
October 13 – 17, 2011 from Miami to Half Moon Cay & Nassau, Bahamas
ARE YOU READY to INVADE the seas on the first ever KISS Kruise? KISS is partnering with cruise industry leaders, Sixthman for this sea-bound adventure.
On this outrageous ship, you'll get to party with fist pounding hard rock all night, and live like a rock star all day. You'll see a legendary show with KISS in an intimate indoor venue and an acoustic "Sail Away Concert" (no make-up!!) to keep the party going as the ship leaves port. It doesn't stop there; we'll have krazy on board activities, KISS-themed nights, badass costume contests and more!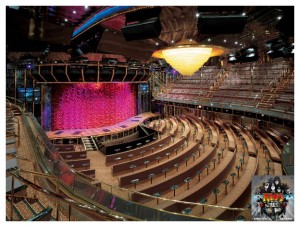 KISS ARMY Fan Club members will be able to book first during the pre-sale, so if you've let your KISS Army Fan Club membership expire or you're thinking about joining for the first time, make sure to sign up by May 22nd!
The sooner you book, the better selection of cabins and seating for your main lounge show!
So, don't wait – sign up now for the presale here: www.sixthman.net/KISS and make sure to become and ARMY member before May 22nd!
Here's how it works:
STEP 1: Visit www.sixthman.net/KISS to register! Pre-sale sign ups end at 11:59PM EST on May 30th , 2011. (IF YOU JOIN THE FAN CLUB, SIGN UP FOR THE PRE-SALE BY MAY 22nd TO BE A PART OF THE KISS ARMY FAN CLUB PRE-SALE).
STEP 2: All those who are not Fan Club members will receive more detailed information by email from Sixthman on or around May 31st . The email will have your Earliest Booking Time – a randomly assigned date and time starting June 2nd.
STEP 3: On or after your Earliest Booking Time, visit www.theKISSKruise.com and click Book Now to reserve your cabin!
STEP 4: Start planning for the best vacation of your life!
The public on-sale date is June 7, 2011, at which time anyone who didn't join the pre-sale may book.
For more information on our ship, itinerary, and overall event, please visit The KISS Kruise: Wet, Wild, & Rockin' website www.theKISSKruise.com when it launches on May 18, 2011.
If you have further questions before the website is launched, please contact Sixthman by email at KISSKRUISE@sixthman.net, or through Sixthman's Live Chat feature (http://www.sixthman.net/util/chat) or by phone at 877-379-9183 (open M-F, 10am-6pm EST).
This is only for supreme KISS fans. Are you ready to rock & roll all night and party every day?
See you onboard!
Visit www.Kissonline.com/kruise for more information.