En artikel om KISS från doyouremember.com, artikeln har några klassiska videoklipp: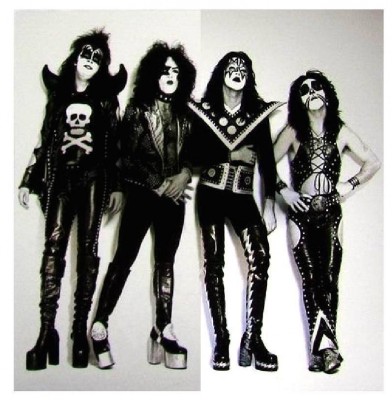 1973: Kiss Shocks and Awes the World
Contrary to popular belief, Kiss was not just about the makeup—it was the about the pyrotechnics, fake blood and high heels. Formed in 1973, the band made a name for themselves as a part of the glam rock-movement in a similar vein to the androgynous antics of the New York Dolls and Alice Cooper. So how exactly did a couple of guys who look like RuPaul's Drag Race rejects become the idols of half the male population of the United States? Kick-ass guitar licks and Satan worship, that's how.
Though they've enjoyed commercial success, Kiss has had a rough go of it on the critical side. Luckily, last week they were inducted into the Rock and Roll Hall of Fame—alongside Nirvana, Peter Gabriel and Cat Stevens, among others—after a nearly 15-year snub by the exclusive club of aging rock stars. For hardcore fans, the honor was a long time coming for Gene, Paul, Ace and Peter. Here we look at the long career of a band who fused pageantry and theatrics with a hard-rock edge.
On The Mike Douglas Show

Kiss' second television performance, on The Mike Douglas Show, was also coupled with Simmons' first on-camera interview. True to his demon character, he scared an uncomfortable audience with his trademark tongue wagging, prompting comedian Totie Fields to wonder if he was just a nice Jewish boy under all that makeup.