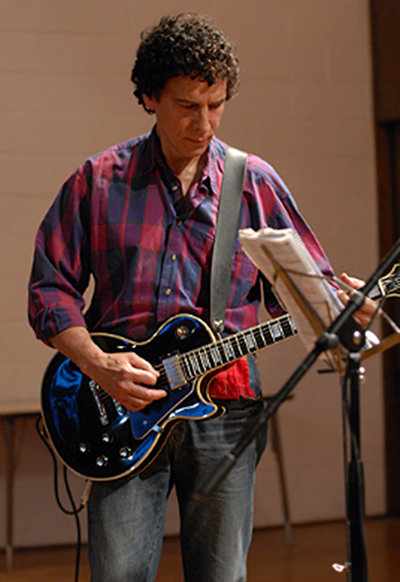 First of all, we want to thank you for giving this interview to KISS ArmySpain. It's a real honour for us.
KISS has just celebrated their 40 years of history and what better way to celebrate it on our side than going back to the beginning, to the year 0 and even one year before that, just when everything started and talking to the person responsible for KISS exists and has existed these 40 years.
Q: Hi Stephen, Could you introduce yourself? You know, year of your birth, place where you live, occupation, a summary of who you are.
A: Hi Fernando, Javier, and the KISS Army inSpain- Steve Coronel here. Born and raised inManhattan, in 1951. Currently live on2 acresinConnecticut,United States. I'm a lead guitarist, songwriter, and an expo-exhibition designer.
Q: Who did you meet first, Paul or Gene? How did it happen? What were they like at the time?
A: Gene and I were close friends. Gene and I met in 1963, the first day of seventh grade, in JosephPulitzerJunior High School, JacksonHeights, Queens. We met in the gymnasium; the school recorded your height and weight when you began 7th grade. We "found" each other in the crowd, I don't know why; and we began talking about music. He told me he was a singer and I told him I was a guitar player.
At the end of the session I saw Gene in the back of the gym, harmonizing with a few guys, singing "Barbara Ann" (by the Regents, 1961). They weren't singing very good. Gene came up to me when they were finished, and said "Hey, how was that? Pretty good, huh?" I told him  – "It sounded like shit". He recoiled in horror, his eyes got wide, and he said, "What?!" …And punched me in the lip. Before I could recover myself, he apologized over and over, put his hands on my shoulders, kept telling me how sorry he was.
And we were friends from that day on. He, Seth Dogramajian and I formed a band that year, the same year the Beatles hitAmerica. We played together all of our teen years at many, many gigs. After school we would go to his apartment. His mother often cooked us a snack of scrambled eggs and Heinz beans. It was there one day that I saw what was to become his trademark. We were flexing our arms, comparing triceps muscles, and he asks me, "Can you do this?" and takes out his tongue and touches his nose.
Q: Did you study with Paul at Manhattan High School of Music or was it at theBronxCommunity College?
A: No, I went toStuyvesantHigh SchoolinManhattan. It was for "smart" kids. You took a test to get in…..I didn't meetStanleyuntil I formed a band with him in 1970.
Q: KISStory really began at your home in 1970, since it was the first place where Gene and Paul met. What memories do you have from that moment? Without knowing you became responsible for one of the biggest rock bands in history could happen, congratulations and thanks.
A: I recall opening my apartment door to let Stan in when he rang the bell. I think he wore a blue pea jacket and I believe it was the Fall. It was sometime in the evening because I remember Gene leaning against the windows and it was already dark behind him. I had a 4 1/2 room railroad style apartment, with all rooms having windows that looked out the right side of the building facing north; you could see and hear the big trucks and tractor trailers with all their lights on, as they went up Broadway, which ran North to South. I was on the second floor, and the apartment which had been my grandfather's until his death in Dec.1969, was Apt.2L. I grew up there. The address is 4455 Broadway, which is at the corner of 191st Street, Washington Heights, Manhattan.I had painted the living room glossy black in 1970; the whole apartment had oak parquet floors. I had painted a metal bed frame glossy red and placed it on top of two 4×12 Marshall speaker cabinets, one cab at the head, one at the foot, the bed projecting out into and bisecting the room. It was quite strong and you could sit under it on a small chinese carpet and smoke……pot! On either side against the wall on the head side were tall Magnatone P.A. columns. Spanning the columns on top was a long shelf which held my 100 watt Plexi Marshall amplifier head. Gene and I used this equipment when we played out. Stan walked around that "amazing" bed in the living room, shook Gene's hand and put his guitar case down near our feet. We were standing closely as Stan played.
I think, that is I know, Gene was shocked byStanley's songs. Gene always thought, first there was the Beatles, then there was Gene, and then there was everybody else. And then he metStanley.
So Gene was ill at ease and rather rude; he didn't talk at all, but `said, "Nice to meet you".Stanleylooked at me, packed up his guitar and told me he'd call me.
The following week he called, and said who do you want to play with, "It's either him or me".
Gene got over himself two weeks after that, and the band got together, geting along very well, like nothing had happened.
Q: How and why was Wicked Lester born? Whose was the idea of replacing Stephen Coronel for Ron Lee Jack? How and when you were told that you were out of the band? Did you rehearse in a place inCanal Street?
A: The band started with Gene, Brooke Ostrander and myself. ThenStanleybrought in by me. Next Tony a drummer brought in by Brooke. We found a room above the Norman Watch Co.on the second floor of a walkupChinatownstorefront type building, leased by a sculptor, who rented the back room to us for use at nights and weekends. There was no heat in the winter. Stanley and I would run in the snow before rehearsal to a small Chinese liquor store to buy wine. Gene would scold us! We had many many rehearsals there. The following spring I gor a call from Gene while I was upstate working as a waiter in the hotels for the holidays. A thief broke into the rehearsal room and our equipment and guitars were stolen. So we had to buy whatever used guitars and amps we could find. But we kept playing.
Epic Records didn't like me for some reason. They said Wicked Lester would get a deal if they replaced me. Gene had to come up to my apartment to break the news to me.
Q: How do you remember the visit of Ron Johnsen to the Wicked Lester rehearsal place? Was it a long time until you entered Electric Lady Studios to record? Was the band together or were you in process of breaking apart? Did Ron come to be your manager?
A: Can't say I remember Ron Johnson's visit to rehearsals. Or the exact time until we went into Electric Lady. I think it was a few weeks until the first session when there was free time available. We had to wait – like flying on standby on an airlines. Free spec time in a studio means you can only go in when no one else has booked and paid for recording time. We were still together then. At Electric Lady we also bumped into some of the top musicians of the era, which turned out to be hilarious at times, such as this: Gene came up behind a guy in a long buckskin jacket, while he was playing the grand piano in Studio A. Not knowing who it was, Gene started to clap slowly and loudly when he finished, and said "Hey, that was REALLY good". It was David Crosby ofCrosby, Stills and Nash. David turned around and gave him such a dirty look. Gene came running, sweating and scared, back out to Stanley and I, as we sat in the reception area. We almost died laughing…. David did smoke a joint though with my room mate Ricky, on another session day, but gave me a dirty look too! I found out later from Ricky why….it was because David pointed out my girlfriend Debby Howe to Ricky as they smoked, and said that's the kind of girl I like. Ricky told him, oh you can't have her, that's my room mate Steve's girlfriend. So of course when I tried to say hi to David…!!hahaa.
Q: Why do you think that the Wicked Lester album finally wasn't released? What explanation did they tell you?
A: I wouldn't know that since I had left the band. I can assume Epic didn't believe the album was marketable. I wasn't fond of some of what we played in the recording sessions. We were a hard rock band that was turned into a pop band. Wicked Lester, as we sounded rehearsing inChinatown, was more like what was to become KISS. As an example, there was no flute solo in "She"…. and "Goin'Blind" sounded just like KISS later performed it.
Q: After your departure from the band, did you remain being friends with Gene and Paul? When KISS started being successful, did you know that they were the ones behind the make-up?
A: I bumped into Gene when they were rehearsing on23rd StandPark Ave.I worked around the corner from there, as I had been while we were recording  with Ron Johnson. Gene and Stanley came down to my loft to see my band Lover at rehearsal, and came to several shows at Max'sKansas Cityand Copperfield's.
Gene first discussed the idea of makeup at rehearsal inChinatown. He did a pen drawing of a guy breathing fire in his notebook. So I went home and made some drawings too.
Q: What did you feel when you saw that "Goin' Blind" and "She" were released on KISS albums? What do you remember of their writing?
A: Gene called me up one day and asked me to meet him at a lawyers office to sign contracts giving me 50% of the songs. I was happy they were recorded. They have appeared on more than 18 million KISS dvd's, cd's, albums and cassettes. And I have 8 multi-platinum, platinum, and gold records on my Wall.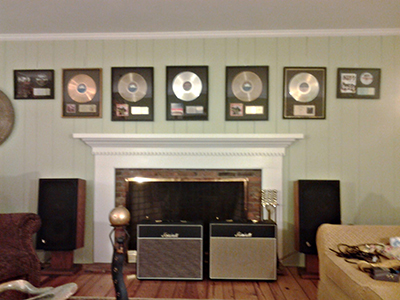 How the songs were written: "She"-I bought an electric guitar one day, an Acoustic Black Widow. It was an electric that resembled the Mosrite Ventures guitar, which I also owned. I was very pumped up when I got home with my new guitar and started experimenting with riffs. Within a half hour or so I had written the riff and chords to She. I played it at rehearsal that night – Gene came up with the story, about a girl who "walks by moonlight". I asked him "What do you mean she walks by moonlight? What is that?!", and he said,"You know, it's this Pocahontas type girl, she's walking on the stones in a river, and she takes off her clothes!".
"Goin'Blind" –  I was a big fan of Leslie West, Mountain. So was Gene. We saw a Mountain concert in upstate NY while Gene was at Sullivan (SullivanCountyCommunitryCollegewhere we used to hang out with our girlfriends Nancy and Debby Howe). Anyway, I wanted to write a song with powerful chords, that had something pretty in it as well. I was thinking of "Theme From An Imaginary Western" by Mountain. So I came up with this whole complicated chord structure for a new "song", and brought it down to rehearsal. I played it for him, and Gene wrote the vocals.
Q: Did you ever go to see a KISS concert inNew Yorkin the '70s?
A: Several concerts of course. Bill Aucoin gave me tickets anytime. There was one, the1974 New Years Eve Show at Nassau Coliseum. Afterwards, we were in a heated indoor pool in Manhattan at the Excelsior Club at 5am…
Q: What road did you follow personally and professionally after leaving Wicked Lester?
A: I made myself a career in design and advertising, which was what I enjoyed besides music. I now do large expo event designs as an independent contractor. I met my wife the same year Gene metShannon. We sent each other letters congratulating each other. I am single now, and have grown kids.
I started a band, Lover, from 1975-1979, which was fortunate to headline Manhattan rock clubs, ie; Max's Kansas City, Great Gildersleeves, Copperfields and several theatre concerts. We recorded at Bearsville Studios inWoodstock, and at Electric Lady Studios. We had an excellent road crew, headed by Ritchie and Raymond. Our manager was Johnathan Edward's manager, and his partner was co-manager of the rock groupBOSTON… I am currently actively in partnership with a few musical buddies to see what we can make of ourselves. With a little luck I will meet you all one day inSpain, the origin of the Coronel family…
Thank you very much for your time, and if you ever come toSpaindon't hesitate to contact us. Could you send a message to the KISS ArmySpainfans?
THANKS SO MUCH!!
Interview by Javier Rueda and Fernando Martínez for www.kissarmyspain.com