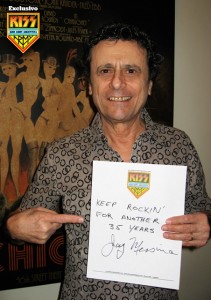 Kiss Army Argentina 2 february 2011
Burn was really Destroyer entertaining
Jay Messina has been a very important role in the Kisstoria. Has sound engineer was "Destroyer," "Dynasty" and "Unmasked" in addition Having worked with many of the greatest artists of all time, as John Lennon, Aerosmith, Supertramp, Lou Reed and Cheap Trick among others. Jay Messina has much to tell and does so in the best way for this missed interview by Marcelo Ferreyra and Diego Garcia to Kiss Argentina Army.
Hello, Jay. First, thank you very much for this interview. It is an honor for us.
Thanks for the thanks. The pleasure is mine.
You've come a long way, and therefore is not easy to choose where to start on your career. In your curriculum listed many names of fame and prestige, and many historical personalities, are a celebrity in what you do … Tell us please how it all started.
When I was 8 years old, my father bought me a bell orchestra. He played bass in a trio consisting of bass, guitar and battery. It was an acoustic bass, and the type of music they played was basically typical music of the 40s and 50s. Then in a year, I specialized in the vibraphone [N. T: percussion instrument similar to xylophone]. I continued playing in bands during high school high school and until I was twenty. I still do, mostly by question of personal pleasure. When I finished school I started attending a technical institute for about a year, after which I got working. Was to commence work on a Monday. The previous Sunday night, was talking to a friend, David Lucas, during an outing. This friend of mine was an engineer and musical composer. I wanted to devote more time to composition, but due to work as an engineer, was not enough time. He asked if I wanted to be engineer. I did not even know what an engineer did, I said further that the next day went to work. He said: "Resignation. I can only give $ 25 a week for food, but it will be fun and I like it. " I decided to trust my instincts and accept. Notice in the other place in the morning Next you quit. David was right … It was and still is, entertaining. I've been devoting to it from that Monday morning.
If we mention "The Record Plant" [known study recording of Los Angeles, USA], undoubtedly will bring more of your best memories. "The Record Plant" is probably your place in the world, right?
After a year in my first job, Don Elliot Productions I started working at A & R Studios, a large study that were recorded the major successes of the '60s. Phil Ramone was one of the owners; really learned a lot there. Also used to go on weekends recording practice with my friends, who of course were great musicians [N. the T: his work at The Record Plant, which opened in 1968, was what followed this work in A & R].
Are you aware of the importance attached to your work through the years? Because not many people can be opportunity to work with artists and bands such as John Lennon, Supertramp, Lou Reed, Aerosmith, Anita Baker, Blues Brothers, Cheap Trick and … KISS!, To name just a few. How to survive this experience?
I, and I am truly fortunate to work with these great personalities. From childhood I learned that everyone is equal, and should treat people as I would be concerned with me. Every time knew a star was a thrill the first few minutes, but Then I realized they were people like me, and I was like them.
As you can imagine, all you have done for us to interesting, but as we KISS Army Argentina, we must logically ask for KISS. How did you meet?
After starting work at The Record Plant, I met Bob Ezrin, who worked on the study for some time. Jack asked Douglas to produce an album of Aerosmith, to which Jack agreed excited. Until then, Jack was my assistant and we had a very good working relationship. When Jack accepted this task as a producer, asked me to be the engineer, and it was there that I became acquainted with Bob, who when he had the opportunity to produce "Destroyer", I asked if he would be part of the project.
What did you think when you knew you would work with KISS "Destroyer" in 1976? Had you heard about them? Did you have an opinion and about what they were doing?
By the time they were already well known in New York, and So I knew who they were, and I really enjoyed the notion of working with them. Knew only by hearsay, ie, not personally.
Let's talk specifically of "Destroyer." In this KISS 'legendary album you participated as an engineer, along with Corky Stasiak, by Bob Ezrin. What can you tell us about these sessions recording?
Burn "Destroyer" was really fun. Corky had me assisted in other previous projects, so it was appropriate also did it. He was always ready for what Bob and Iwe asked. Bob is a talented musician, and enjoys being in charge and make things his way. Sometimes truly imposing, which surprised the band. He knew what he wanted, but also had a sense of humor.
At that time, you thought that "Destroyer" would become a key album in the discography of the band? Were they conscious the band of the great work they were doing?
Jay Messina: I knew it was a great album, but I imagined that become a classic, although I'm not surprised that it happened. I knew while we were recording it was a good thing. I think the band enjoyed the recording process, and they felt good with the music.
How was working with Bob Ezrin? Can you tell anecdote that occurred during the sessions for "Destroyer"?
There was a particular incident that happened then. We working on a new song, and when someone in the band was wrong, all left to play. Bob immediately took the floor and said loudly and firm: "Never, ever stop unless I tell them!". For Of course, everyone in the band looked stunned. Gene and Paul were the most surprised. Nobody ever talked like this before. Bob explained that if necessary, could edit pieces for a good shot. All This turned into something funny by the way Bob had said. From then, that the phrase became the album header, and each So someone said, and all began to laugh.
What did they think then the band members on the Bob Ezrin musical direction he wanted to "Destroyer"? Must have been a complicated process ….
Yeah, it was a complicated and probably more sophisticated and Technical compared to what the band had done on previous albums. All relied on Bob and his instructions were generally without too many questions.
Would you say that Bob Ezrin is the best producer with whom you worked?
Not a fair question, because I've worked with many different producers, each with its own way of doing things with his unique talent … Pretty good for an evasive answer, right? In Seriously, it's the musicians: a drummer, for example, is not necessarily better than another. Are different. There are bad and bad producers drummers, but large producers with whom I worked, I can that each one had its own style, and they were all different.
Between "Destroyer" and your next job with KISS spent three years, finally came "Dynasty", here the story was different: new producer, new musical direction. What can you tell about your experience with Vini Poncia and the differences between the experience and your previous experience with Bob Ezrin?
Vini met just before "Dynasty", and then we became friends. We had a great relationship. The musical approach on "Dynasty" was quite different from the "Destroyer" in "Dynasty" was more musical approach and more oriented to the voices in the atmosphere compared to hard rock he had "Destroyer." Vini's approach was more "light" than Bob, which made the atmosphere in the studio was somewhat muted. Not that one was better than the other, they were just different.
Kiss "Dynasty" was not exactly "an album" on KISS story, and something similar could be said of "Destroyer." Which two was more meaningful to you professionally? Which do you prefer in Personally?
In regard to my work with KISS, Destroyer has always been my favorite. I like it because I feel more rock, while "Dynasty" was more "friendly", if I understand … I had that side rocker I did have Destroyer.
Throughout history there are frequent KISS study examples of work done with a session musician, as for example, "Destroyer" or even more, "Dynasty." Is it this one complication at the time of recording?
I do not remember exactly why Peter did not touch in "Dynasty", never had problems in the sense that there was no strange feelings in a study with Anton Fig on drums. I do not remember in "Destroyer" play anyone outside of the band. Dick Wagner and Steve Hunter played in many rock albums at the time, but not really I remember that part in "Destroyer."
On the sessions for "Dynasty", what was the relationship between Paul, Peter, Ace and Gene, and how was that Peter left the band and Anton Fig replaced him?
I do not remember what it was Peter's relationship with others because I remember seeing him during filming. All those in the study seemed to get along. Nor do I know the details of why Peter did not touch on that album.
Befriending once with a member or former member of KISS? "You spent your time with any of them, beyond recording sessions?
I made friends on all of Ace. Sometimes we spent some time together outside the studio. In fact, I talked to him a few days. Also participated in his new solo album. During the recordings of "Dynasty", the band, Vini and I sometimes went out together. Studio 54 was always a fun to go, but there was always someone with a camera trying to take a photograph, clear that most of the time not managed.
Regarding your work, after "Dynasty" wine "Unmasked." Many people believe that this was your best job as an engineer with KISS, what do you think?
Well, I find this surprising. Would have to hear again the entire album to realize what could be referring. Always I thought "Destroyer" had better sound, but could be wrong.
We believe that in many respects the work process "Dynasty" and "Unmasked" might have been similar, was it?
Yes it was, and the main reason is the production of Vini Poncia. He had a very specific way of doing things, which applied in both cases.
Vini Poncia, producer of "Dynasty" and "Unmasked" was successful in developing new vocal harmonies to the band. What was the main difference between him and Bob Ezrin? What other differences existed between the styles of both?
I think the main difference was in the harmonies vowels. Although "Destroyer" was sophisticated by the standards of KISS maintained a harder side.
What can you tell us about Bill Aucoin? Were you present at recordings of KISS albums in which you participated?
Bill was a great guy and is always involved in processes studio recordings in which I participated. Was instrumental in the success of band. He was intelligent, entertaining, and always available.
We learned that during the tour he did with KISS Aerosmith (both, incidentally, were very important bands in your career) had the opportunity to meet with KISS again. How was that meeting? What did you think of them then?
Funny you should mention that, because I was running with my wife backstage at Madison Square Garden to greet Aerosmith and when the meeting ended, I meet casually with KISS in the hall; they had just emerged from backstage to go on stage. Seeing them was a pleasant surprise, as did a few years since we met.
Would you like to work with KISS again? Do you think could it be?
No doubt that I would like to work with them again, although really only know Gene and Paul. Both provided me fell good. Are fun and made me laugh really hard in the studio. I think it would we came back really possible to work together.
What are you doing?
I have a private studio in my apartment in the city of New York, called West End Sound, where he developed most of my work. The most important thing I've done recently is the new album Stripped Down, called "Double Fantasy", which I mixed with Jack Douglas. I I am dedicating more frequently for international bands, whose work I mix in my studio. I am also working in mixtures with a band Wild called Machine, Greece. I recently finished work on two talented singers, one of L.A. Call Chrissy Danielle, and the other, New York, named Annie Sullivan. My wife Colleen and has material Itunes, and we are also working with other artists.
What do you think the world today and the music industry? What things have changed?
Everything has changed since the recording process until the mode music distribution. Of course, some basic things do not change but is a new world compared to the days when albums were recorded mentioned earlier. Changes in technology have been very noticeable. Some I think are positive, others not. I love editing possibilities digital world, and do not miss for anything having to carry boxes of tapes, although it strange how that sounded those tapes. I do not like that Most of the music that is distributed to end in formats such as MP3.
Do you have any unfinished business in the professional, as an artist or band who have not worked with yet?
I can not think of anyone now, but there are many talented people. I always appreciate the opportunity to work with any new artist has a special gift and a positive outlook in life.
Have you heard some of the latest in KISS? Still the work of the band? What do you think the current lineup?
I have not heard the latest they have done, and I'm not musically a avid follower of the band, but I like his shows, and I would go back to see them. To have known at the beginning, I do not think that is what same without the original lineup, although I have nothing against members current.
How would you describe KISS?
KISS is a phenomenon and an important part in the history of Rock and Roll, and certainly are doing very well.
When KISS released their book "KISSTORY" comments over the sound of "Dynasty" and "Unmasked" were not favorable; would not you OK?
I can not say that you have read the book, so I do not know what said, but would not say I agree with that sound was not appropriate to the musical style of these two albums, strictly speaking from the technical point of view of sound.
If you look back, what would you say is the member or former member of KISS that you came over, beyond the professional?
Ace and I always had a special connection that goes until today.
Would you like to be involved in another album KISS?
I do not regret anything I did, I can say I'm happy with how it all happened. I think a short answer would be "no."
In your opinion, what is the best album of KISS?
My favorites are "Alive!" And "Destroyer."
It is known that Peter did not participate in "Dynasty" (Except for "Dirty Livin '") or "Unmasked." As for Ace, Gene and Paul, Who do dress more in accordance with the direction and musical style of these two albums? (Incidentally, I think Ace was more rock spirit by then)
I think Paul and Gene were the ones who were most satisfied with vocal harmonies. Ace has always had that side rocker with which felt more comfortable.
Finally, what was the best time lived with KISS?
I remember several times when studying the era of "Destroyer" and what fun we had while recording. During the sessions of that album particular, we were both out of the recordings. I also remember the glamor of the other two discs, as when we went to Studio 54, or parties after recording. Not that I remember a time when particular. Remember all that time as fun and special.
Could you please leave a message for KISS Army Argentina?
Keep on rockin ', folks! And visit my web site www.jaymessina.com
Jay, thank you very much for your time and dedication to this interview.
Thank you.
Visit: www.jaymessina.com
Kiss Army Argentina appreciates the kindness and willingness Jay Maessina to grant this exclusive interview.
KISS ARMY ARGENTINA