Kiss Army Argentina har intervjuvat Ken Kelly, konstnären till Destroyer och Love Gun. Han är aktuell med omslaget till jubileums utgåvan av Destroyer. Vi tackar Kiss Army Argentina för intervjun.
Kiss Army Argentina Exclusive Interview with Ken Kelly:

I'm working with Destroyer Deluxe Edition
Ken, thanks a lot for granting us this interview. It is an honor for KISS ArmyArgentina. As you can imagine our interest is focused on the works you did with KISS, but it isimpossible to leave aside your vast and long career as illustrator of fantastic scenes. You havebeen a student of none other than Frank Frazetta. Please tell us how this interest in illustrationcame about in you, and how was your experience like in Frazetta's school.
I've always been interested in art as long as I can remember. It became more serious as Ibecame an adult. Frank Frazetta was part of my extended family and a working professional at that timeso it was very normal for me to ask questions.
In your long career you have done great illustrations of Conan and Tarzan, among other great works, but as we said before, we would like to focus in KISS. How did that first contact withKISS happen?
KISS's agency sent their representative to scout out new talent working in the field at the time and Iwas one of those artists.
How did the initial idea for you to work in the legendary Destroyer cover come about? At themoment you joined the project, was the name of the album already defined? How did you startworking on that cover?
The art director hired by KISS to create the cover knew what he wanted on the cover which turned outto be the KISS BROWN cover. Yes, they called it "DESTROYER" from the very beginning.
As for your work with the cover of Destroyer, did you work on ideas different than the oneswe know and that you never made public?
I still have extensive preliminary pencil drawings from that era which were done to familiarize myself with the subject of KISS.
By now we can say that the final cover of Destroyer is almost as famous as the previous sketches and as the original illustration that you presented to Casablanca Records that wasrejected at that time. What can you tell us about that first cover that has never been used untilnow?
Casablanca records label rejected my first cover, the BROWN KISS, due to what they consideredvery close extensive violence directly behind the group members in that era.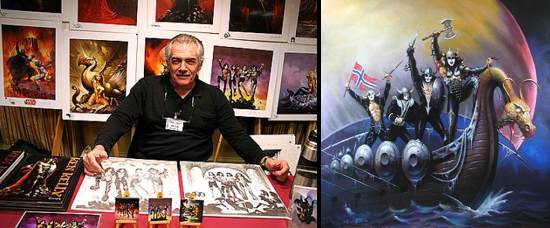 What is the size of that original Destroyer cover? What technique did you use? Do you stillkeep that original design?
I can't remember exactly but 25 inches by 40 inches sounds right. The painting was done in oil paint.The original was accidently destroyed.
Did you ever imagine that the Destroyer cover would someday become one of the biggestKISS icons?
I am delighted to know that the entire world still enjoys the KISS covers I did all those years ago.Absolutely fantastic!
How did that chance of working again with KISS for Love Gun occur?
I sincerely wish I knew how that decision was made but OOOHHH am I glad that it was!
As for the process of the Love Gun cover we know less than about the Destroyer cover.What can you tell us about it? What was the process for Love Gun like? Do you keep the originalof the Love Gun cover?
They asked me to do a rough oil comp painting and then we all discussed in what direction theywanted me to go in so I gave them another rough comp and they agreed with my second drawing. GeneSimmons owned the original oil painting and sold it at auction for $ 87,000.00.
In relation to our previous question, there was a rumor that you had not finished the artworkof the Love Gun cover when Casablanca Records urged you to hand it in, as they wanted torelease the album as soon as possible, and that therefore, you had to hand it in incomplete, is thisreally true?
This is correct, I had not finished Peter's costume completely but it doesn't seem to matter much now.
We know that for an artist his works are somehow like his "children". In this sense, and inrelation to KISS, what would you say your favorite cover is and why?
That is a very difficult question to answer since each one has its own qualities; one week I'll swear Love Gun is my favorite, then I'll switch to BROWN KISS. I'm still not sure but I do love all three.
In the time when Destroyer and Love Gun were released, how much involved was KISS in thedesign for the cover? What about Bill Aucoin, who was sort of the 5th KISS, and responsible in agreat extent of the image and ideas for the band?
It was always evident to me that their manager, Bill Aucoin, was in charge and made the finaldecisions, but Gene and Paul would give me suggestions that I always followed.
After your contributions to Destroyer and Love Gun, two iconic covers, was there ever another chance of working with the band again?
There are other projects associated with KISS that I have done; there was the KISS Nation cover for Marvel and the Norway KISS Army Tribute Album cover.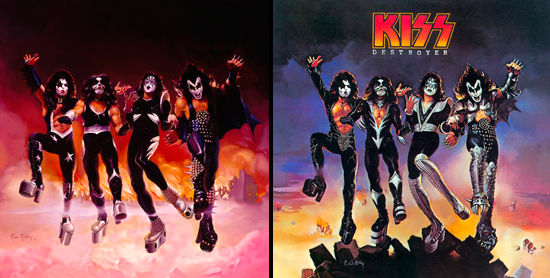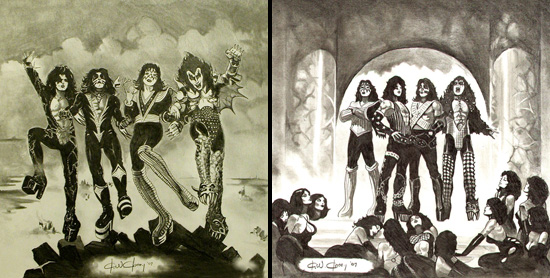 It seems the future cannot be brighter. KISS is planning to re release a deluxe edition of Destroyer, and it seems they will use the cover that you had originally designed and that had beenoriginally rejected. Is this correct? Are you currently working with KISS in this sense?
In a sense yes, although I'm working directly with Universal Music, who in turn communicates withPaul and Gene regarding what's going on.
It will be like going back in time: KISS working again in Destroyer, Bob Ezrin contributingagain, plus your original cover. Sounds really exciting.
As exciting as it gets! I'm flooded with email with all the talk! Very exciting!
What are your current plans and what are your projects for the future?
I have a wonderful career and am currently working on a number of projects, Book Series, Calendars,Statues, Record album projects; too many to list here but please come visit my web site,www.kenkellyfantasyart.com.Thanks.
Finally, could you please leave a message for KISS army Argentina?
I want to first thank you all for your interest in me and my association with the band and thank youagain for your loyalty. May it continue for many more years!
Ken, it has been a pleasure and a true honor for us to hold this interview with you. Thanks alot!
It's been a pleasure for me also; I'm delighted people so far away are still so nice and friendly. If I hadan opportunity to travel I would very much like to visit you and your country.Thank you very much.SincerelyKen Kelly
Interview: MARCELO GARCIA and DIEGO FERREYRA (Kiss Army Argentina)Translation: Mariana "MIA" Abello (Kiss Army Argentina) December 2011