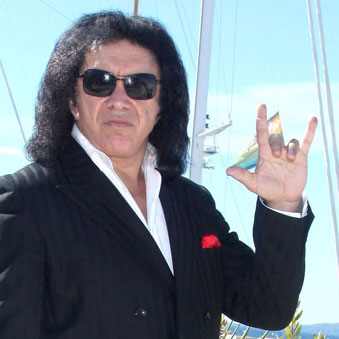 Gene Simmons kommer att gästa Hard Rock Café i Helsingfors, så här skriver dom på sin hemsida:
Hard Rock Cafe Helsinki are very excited to bring you "KISS AT THE HARD ROCK!" a very exclusive TWO DAY event celebrating all that is KISS! … Not to mention a very special appearance from the man himself, Gene Simmons!
So what's going on at "KISS AT THE HARD ROCK"?
DAY ONE – 03.04.2013: …
– KISS  music videos playing throughout our restaurant! – KISS DVDs screening on our TV wall and massive projector! – All our staff will be wearing KISS Face Paint to amplify your rock 'n' roll experience! – Themed restaurant & lighting – KISS Cocktail: Cocktail of the day inspired by the band! – KISS Dessert: Baker's choice dessert inspired by the band – Special Memorabilia Tour: Our staff are rehearsed with some great stories about KISS and our KISS memorabilia we have in our cafe. – Includes Gene Simmons' boots worn on the Crazy Nights World Tour, Paul Stanley Washburn Guitar, Mint condition original first edition KISS ARMY embroidered patches! – Plus 122 other items of memorobila from artists such as Gun n' Roses, Bon Jovi, Van Halen, Black Sabbath, The Who and more!
DAY TWO – 04.04.2013:
All the same awesome activities as Day 1 and…
GENE SIMMONS: KISS' infamous bassist will be taking the stage at HRC Helsinki to talk to fans and donate a bass guitar! — Starts: 15:00 —
LIVE MUSIC: Very special Acoustic Show featuring performances of KISS cover songs by Arttu of Santa Cruz & Baton Rogue Morgue
https://www.facebook.com/santacruzband
https://www.facebook.com/pages/Baton-Rogue-Morgue-Official
— Starts: 14:00 —
KISS ARMY: Are you in the KISS ARMY? They're coming down in force so don't miss out a chance to dress up and come on down! More details at:
www.kissarmyfinland.com
FREE ENTRY! SHOUT IT OUT LOUD! WE'LL SEE YOU THERE!