Fredagsmys, "Not For The Innocent" från 1983. Läs mer om sången nedan:
Not For The Innocent
Not For The Innocent
Simmons/Vincent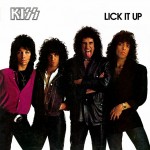 Written by Gene Simmons and Vinnie Vincent. Originally recorded in August 1982, the early demo had strong similarities with the "Creatures Of The Night" style, plus a somewhat brutal vocal delivery by Paul. That's right, Paul! While Gene sings some of the verses, Paul handles the majority of the song including some verses and the chorus. Gene sings the first verse, which is the same as on the "Lick It Up" album version; Paul the second verse. While the verse is the same as the album version, the second repetition of "Kick you when you're down" is not present. Paul then launches into the chorus: "We're not for the innocent / We're not for the innocent / Yeah, we're not for the innocent / Let the beast run wild."
Gene's third verse is also slightly different: "I've been damned, I've been cursed / I've been guilty and abused (Ooh yeah) / Spit in the hangman's face / I'll hang him with his noose / We're a habitual threat, I've got you in my claws." From this point in the song (1:40) Paul takes the rest of the vocals. Following a two repetitions of the chorus Vinnie provides a very 1982-Vinnie-like guitar solo that lasts 25 seconds. Following the solo there is no "Better lock up your daughters / We're comin' to your town / Better pray we're not around" reprise. With the song essentially ending on repetitions of the chorus before Paul finally sings, "We're coming, coming to get ya!" It's clear that the song was tightened up and toned down for the "Lick It Up" album sessions. The 1983 version of the song would be used as the B-side to the "Lick It Up" single in several international markets.
Källa www.kissfaq.com