Fredagsmys, "Good Girl Gone Bad" från 1976. Läs mer om sången nedan:
Good Girl Gone Bad
Good Girl Gone Bad
Simmons/Sigerson/Diggins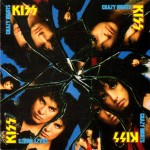 Written by Gene Simmons and two, then newcomers to the KISS song-writing camp, Davitt Sigerson and Peter Diggins. Davit was a friend of Gene's while Peter was Davitt's song-writing partner whom Gene never met. Prior to writing with Gene, Davitt had recorded solo material and written songs which were recorded by the Jim Vallance related band Prism. He had also written material for Jeff Paris, Eddie Money, and Loverboy, and had co-written with Desmond Child.
Lyrically, the song was based on something obvious out of Gene's community college period: "A young lady who Gene went to college with, a girl who started out the demure virgin, all coy and unclaimed… then met up with 'The Tongue!' The only sad thing about the tale is that when she finally did give way it was in the back seat of a car and with someone else, a friend of Gene's in fact" (Kerrang #155).
Källa www.kissfaq.com