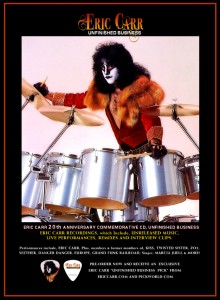 Nedan är några av låtarna som ska med på CD-skivan.
SHANDI (never released)
Performed by Eric Carr (never released), Eric's Shandi vocals, from his KISS audition tape combined with a refreshing new musical arrangement, make this update soar. From classical guitar rhythms to seductive background vocals, the results are unforgettably sweet and totally unexpected. Enjoy this unique version of this old KISS classic.
NO ONE'S MESSIN' WITH YOU (never released)
Performed by Eric Carr, Bruce Kulick (never released). This song was discovered on an old DAT recording owned by Eric, This alternative version of Little Caesar, from the 1989 KISS, album " Hot in the Shade" has an entirely different set of lyrics and vocal melody. Carr handles the
JUST CANT WAIT (never released)
Performed by Ted Poley, (Danger, Danger), originally released as an instrumental in 2001. This song, with its catchy hook, has been re-mastered using Eric and Bruce's ( KISS) original studio drum and guitar tracks. In addition, Ted Poley adds his soulful vocals using lyrics written in 2006. This fan favorite can once again be enjoyed, but this time complete with full vocals and backgrounds.Gritty vocals and bass guitar while Bruce Kulick ( KISS) fills it out with some rock-in' riffs.
ELEPHANT MAN:(DEBUT RELEASE)
Performed by AJ Pero, (Twisted Sister), Kee Marcello, ( Europe) Bob Gilmartin. Special performances by Eric's Sister & Niece. Eric Carr wrote the lyrics for this song in 1991, In 2006, music was composed. From the beginning, the mood is set with a hypnotic slide guitar solo, powerful vocals and a heavy flowing drum beat. This song also reunites Eric with his family, as his sister Maria and niece Sara- Jean, pay tribute with their heartfelt background vocals.
DIAL L FOR LOVE (never released)
Performed, by Eric Carr, written by: Eric Carr, Adam Mitchell.
Written in 1987 during the Crazy Nights album sessions, Eric was proud of this upbeat demo, but it never made it to the albums final track list. After so many years KISS fans can finally hear this unreleased track and judge for themselves.
ALL HELL'S BREAKIN LOOSE
Performed by ZO2 ( co-written by Eric Carr, KISS "LICK IT UP" 1983). Rockers Z02 add their own special touch to deliver a solid performance. Driving vocals by Paulie Z, powerful drums and bass tracks, are the core of this KISS metal classic. Z02 has nailed it!
TROUBLES INSIDE YOU (never released)
Performed by Eric Carr and Mitch Weissman
As Mitch Weissman recalls " Him and Eric were playing around with this song at Gene's house so mitch wanted to do something different with his vocals, so he sat in the closet and sang away, while eric played some guitar, set up the beat on the drum machine and sang background vocals, Mitch loves the results and so will you !