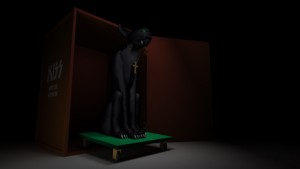 Nu har Serpent 3D  gjort Destroyer scenen i 3D.
«Destroyer» – the apocalyptic city

The «Love Gun» stage set from Kiss was meant to be the last scenography project from Serpent 3D. Then, original blueprints of Kiss' first major stage production appeared online. Not only did this offer the opportunity to recreate what many considers to be the quintessential Kiss show in 3D. More importantly, this project exemplifies the workflow in Serpent3D and the level of accuracy which can be achieved with the necessary input provided. Prior stage designs were all made based on photographs and video. This time all original parts of the design are recreated in accordance with the blueprints.

The «Destroyer» stage of 1976 was designed by Mark Ravitz who free-lanced the project for his former professor at the NYU theatrical design program; famed lighting designer Jules Fisher. Fisher had originally been assigned the project through his company The Jules Fischer organization. Interestingly, three years later the band was being heavily criticized for «going Vegas» due to the elaborate stage design and costumes. In actuality the connection to Broadway stage productions was already made with Ravitz' stage set for «Destroyer». And it was all good…

The «Destroyer» stage set marked a change in Kiss' live career. The breakthrough with the live-album «Alive!» had enabled them to inject more money into their live presentation, which initially only had consisted of Peter Criss' drum riser and a wall of amplifiers . The idea behind the «Destroyer» stage set was a burnt down apocalyptic city in which each band member was given his own area. Gene Simmons would rule the castle area on the left hand side, Ace Frehley would perform his solo in the lunar landscape to the right. Criss had the most eye-catching stage props as two giants «altar cats» flanked him during the whole performance. Paul Stanley naturally took center stage, but the jewel encrusted area especially designed for him was removed after the first dress rehearsals.

Above the destroyed city hovered three clouds and light bolts, which were colored red, white and blue in honor of America's 1976 bicentennial that summer. According to some sources the clouds worked as a giant monitor, but there is neither video nor photos to confirm this. On the contrary, the monitors were placed to the left and right of the stage, as seen in Kiss filmed performance in Anaheim, California on August 20th 1976. For the first time Kiss live presentation also consisted of a multi-level design with 8' x 3' platforms on top of the guitars and steps from them leading to the main stage.

A stage production is a magnificent way to demonstrate the opportunities within a 3D project. In 1976 the only way to illustrate projects like this was by blueprints or actual models. In 2011 3D is the way to go: Historical projects, engineering, property development or entertainment purposes: 3D is a versatile tool which can be adapted to your requirements.
Källa www.serpent3d.net