En artikel om Vinnie Vincent av Adam Gold, Nashville Scene:

The Vinnie Vincent Implosion
by ADAM GOLD
When onetime rock stars move Nashville-way, it's usually to launch a second career as a songwriter, get a gig as a sideman, do sessions, or reclaim their fame in an industry town where having a youthful appearance and cutting-edge relevance aren't always make-or-break requirements. Take Darius Rucker, who — once mocked and maligned as lead singer for Hootie & the Blowfish — has recently celebrated a meteoric rise to the riches of pop-country Babylon after spending a decade as a pop-culture punch line.
When former KISS guitarist Vinnie Vincent moved to Middle Tennessee in the mid-1990s, he might've imagined himself making headlines in guitar magazines by remarketing his trademarked Vinnie Vincent Double V ax, or penning hits that would chart as high for a country star like Garth Brooks as "Lick It Up" and "I Love It Loud" did for KISS, or using his renowned chops as a shredder in the studio. Vinnie Vincent — aka Vincent Cusano; aka "The Ankh Warrior" — accomplished none of these things.
Instead, the first story involving the painstakingly reclusive Cusano to make worldwide headlines was a May 23 post on celebrity gossip site TMZ that read, "Ex-KISS Guitarist — Blood, Cuts, and 4 Dead Dogs."
What happened was every bit as sordid as that headline suggested. According to a memo provided to the Scene by the Rutherford County Sheriff's Office, the department sent a tactical team to Cusano's Smyrna residence to arrest him, after his wife Diane showed up at the sheriff's office "covered in blood and possibly intoxicated."
The 44-year-old Mrs. Cusano alleged to Sheriff Robert F. Arnold that her husband — a man who'd once basked in the limelight of Brazilian football stadiums brimming 200,000-strong with fans screaming for "the hottest band in the world" — had smacked her in the face, grabbed her by the hair, threw her to the floor (four times) and dragged her through a pile of broken glass following an argument over his conversing with another woman.
Cusano was arrested and charged with aggravated domestic assault. A subsequent search of the home — secluded at the dead end of a wooded, suburban Middle Tennessee road and confined by a high privacy fence — revealed the bodies of four dead dogs entombed in above-ground containers. This detail ignited a knee-jerk firestorm of public outrage, or perhaps just creeped people out, painting a picture of the Cusano home as a heart of hair-metal-has-been darkness.
Diane told Rutherford County Pet Adoption Welfare Services that one of the couple's "aggressive" dogs killed the entombed canines. PAWS' decision not to pursue an investigation, as well as memorials reportedly inscribed on the unfortunate tail-waggers' makeshift tombs serve to substantiate that claim, which Vincent later underscored in a posting on his YouTube page.
Vincent's other claims about the incident, however, aren't quite as credible. In a follow-up YouTube posting, Cusano said he was "happy to announce that all charges alleged against me were dropped and the case dismissed." He also claimed he'd been exonerated, saying he'd been "falsely charged."
That isn't true. According to a pretrial agreement filed June 13, a Rutherford County judge "retired" Mr. Cusano's case for a year under the condition that he complete eight hours of anger management counseling before a Dec. 5, 2011, scheduled court appearance. According to the agreement, Cusano can eventually petition the court to have the case dismissed.
This isn't the first time Cusano has cried foul and then played victim. Given the history of petty disputes he's waged and lost over almost 30 years, it's not hard to see Vinnie Vincent as a victim — a victim of Vincent Cusano, whom Gene Simmons once described as, "about the most self-destructive person I've ever met. This guy would hang himself as somebody's offering him the keys to the kingdom."
Vincent Cusano, once a staff writer for Happy Days, became Vinnie Vincent — a name bequeathed by Simmons — when he stepped into original KISS guitarist Ace Frehley's boots in 1982. By 1984, he'd further followed in Frehley's footsteps by becoming a former member of the band, after he refused to sign a contract designating him an employee of Simmons and Paul Stanley. Vincent was unhappy settling for his $2,000-a-week salary.
Cusano's short-lived tenure as "The Ankh Warrior" — appearing on the comeback album Creatures of the Night and its follow-up, the first-non-makeup-era-KISS LP Lick It Up — was a three-year period of his 58 years on this earth that will forever define him.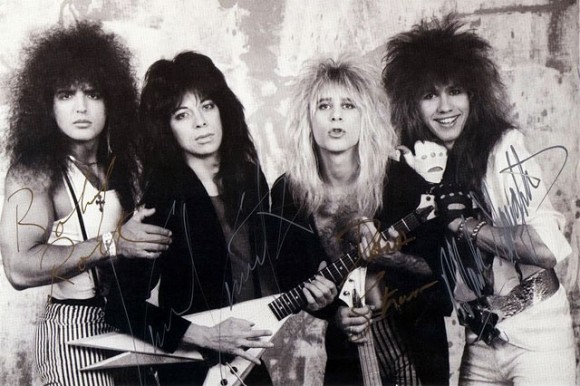 But the years after his 1984 split with KISS make for an almost comically unending downward spiral of rip-off accusations, lost lawsuits and alleged scams directed at his modest but loyal fanbase. From his Vinnie Vincent Invasion — an Aqua Net-laden, second-string '80s pop-metal troupe — through his wilderness years since, Cusano has to many become a self-caricature.
"A guy who played in KISS, even with the restrictions they put on him, should've known, one way or another, how he could've parlayed that into a much more successful career, without having to resort to scamming people and ripping them off," says bassist Rik Fox, whose hair-metal punch card includes W.A.S.P., Steeler and SIN.
Fox claims Cusano and Vinnie Vincent Invasion bassist Dana Strum stole his song "On the Run," recasting it as VVI's "Let Freedom Rock." Fox says that when he confronted Strum — who had produced his original demo for the song — the VVI bassist didn't deny the charge, but rather told him that if he sued, they'd "bleed [him] dry and then countersue."
In an email to the Scene, Strum — on behalf of himself and former VVI vocalist (and current Nashvillian) Mark Slaughter — declined to comment on anything involving Cusano.
Slaughter wasn't the first singer of Vinnie Vincent Invasion. That distinction belongs to Robert Fleischman (also formerly of Journey). Though it was Slaughter lip-syncing in the band's music video for "Boyz Are Gonna Rock," it was Fleischman's voice on the recording. The singer successfully sued VVI's label, Chrysalis Records, for the transgression.
And after former New England drummer Hirsh Gardner successfully sued Cusano for stiffing him with an enormous studio bill and stealing master recordings on which they'd collaborated, Cusano failed to pay up. As legend has it, collectors confiscated Vinnie Vincent Invasion's gear when the band rolled through Boston on an opening stint with Iron Maiden. The ordeal led Cusano to file for bankruptcy in 1989. Rik Fox was listed among the guitarist's debtors at the bankruptcy hearing.
Then there are his legal disputes with KISS, most notably a 1997 lawsuit claiming underpayment of royalties. Cusano marked its filing with a Nashville press conference that MTV News' John Norris described as "quite a piece of rock theater."
"I don't want the kids out there with dreams of becoming another Vinnie Vincent, or KISS, or any band they idolize, to fall victim to the music business," Cusano announced. "I don't want their dreams to turn into nightmares."
Last year, after Cusano made three failed attempts at declaring bankruptcy in three years — a tactic to sidestep compensating KISS to the tune of $82,000 in owed legal fees — a three-judge bankruptcy panel for the 6th Circuit Court of Appeals affirmed a Tennessee judge's ruling to keep him from filing for bankruptcy for two years, citing his previous abuse of the system.
Stiffing Gene the Ogre is one thing, but nickel-and-diming the KISS Army is another. Delusional as it may sound, there actually are those out there who still idolize Cusano — or at least like him a whole lot, musically.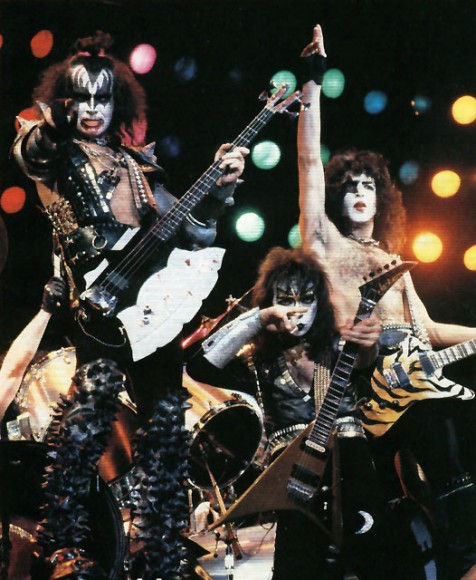 "KISS fans love those guys even if they spit on them," says Chris Czynszak, KISS die-hard and host of the podcast "Decibel Geek." "You heard of Stockholm Syndrome?"
The devotion of KISS fans is not lost on Cusano. Since living in Nashville, he's rallied an army of fans who allege The Ankh Warrior fleeced them of $120 each on pre-orders of The Vinnie Vincent Archives — a phantom box-set of cassettes featuring career outtakes, unreleased songs, personal notes, etc. Cusano began promising 15 years ago to release the set on his own Metaluna Records, and he has yet to deliver.
Fans who purchased the package have instead received letter upon letter from Metaluna espousing myriad production excuses. Yet while Metaluna had a no-refund policy, the letters did offer other opportunities to purchase Vinnie Vincent keepsakes like signed guitar catalogs ($150), or his "personal favorite pick" from the Creatures tour … for $1,000.
Of course, you're gonna need a $1,000 pick if you wanna play a $9,000 guitar. That's at least how much you can expect to pony up for an Official Vinnie Vincent Model Guitar, according to renowned Las Vegas custom guitar craftsman Ed Roman. A few years back, Cusano had made a deal with Roman to manufacture and help distribute the guitar. Roman — who estimates he's known Cusano for 35 years — says the deal disintegrated after the project got started and Cusano began demanding more than double the royalty rate to which they'd agreed.
Still, Roman shared insights into the Cusano he's known — and liked — for so long.
"Vinnie is his own worst enemy. He doesn't trust people," he says. "He got screwed by KISS, really badly. … And after you get screwed around a bunch of times like that, you become paranoid. Then you can't think straight. Underneath, he's a talented, good person. But on the top, with what hits the public eye, he's always gonna be [having] problems."
Maybe he'll sort all that out at anger management.
Källa www.nashvillescene.com