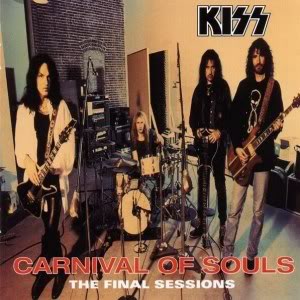 Kiss har som bekant alltid brutit mot trender… Nu har killarna verkligen gjort det igen! Första gången jag satt i "tapen" kom chocken; Kiss goes 90-tal jävlar!
När man lyssnar på öppningsspåret "Hate (Is What I Am)" kan man knappast föreställa sig att det är samma band som en gång i tiden sjöng saker som "Crazy, Crazy Nights" eller "Tears Are Falling", vilket dock måste understrykas att jag fortfarande älskar. Nu är killarna förbannade och så jävla arga att man blåser rätt in i väggen av feta monsterriff, det ena efter det andra.Att Eric Singer och Bruce Kulick äntligen har fattat tag i låtskrivandet råder det inget tvivel om, synd bara att det inte skett tidigare. Gene sjunger med en enorm pondus och bevisar en gång för alla att han är "The God Of Thunder".
Efter denna orgie av ondska är det dags för en Paul låt (vilket man lätt förutspår ska vara hitigare). "Rain" går igång i ett segt tungt "Sabbath-tempo", vilket ställer till med kaos i mitt huvud. Stanley har gjort det! tänker jag inom mig. Kiss-fansens stjärngosse har tagit av sig strutmössan och levererar en blytung låt som tyvärr är lite för seg för min smak.
Däremot följs den av gott sällskap och känns då lite som ett förband till huvudattraktionen som i detta fallet är "Tell Me". I "Tell Me" drar Kiss lite åt Soundgarden och Alice In Chains-hållet men gör det med sådan Ö-V-E-R-T-Y-G-E-L-S-E att de båda banden bleknar i jämförelse. Stanley sjunger jävligt frånvarande på versen men när refrängen brakar loss har ordet dynamik fått en ny betydelse, en kanon låt helt enkelt.
Många av Er läsare har säkert Wicked Lester-plattan hemma. "Childhood's End" får mig faktiskt att tänka på de gamla halvflummiga låtar som "Wicked" spelade, dock med en stor portion attityd och mastodont sound. Med jättekörer i slutet av låten sätter det fyr på stubinen inför kommande dynamitlåtar.
Nu har vi kommit till "Paul
Stanley's Head Quarters", dvs en ballad!!! "I Will Be There" är enligt min smak Stan's pampigaste ballad någonsin. Inga trummor, bara stråkar, gitarrer och underbar sång av stjärnan. Detta måste bli plattans Top10 singel.
Uhh!!! Vad var det?!! Det var öppningsriffet på "The Jungle" spelat av Gene. Det gungar något så in i helvete! Det här är så bra att det knappt finns, men självklart finns det för refrängen röjer bort det lilla tvivel jag haft. Ett fullkomligt suveränt spår!
"Seduction Of The Innocent" visar ännu en nyfiken sida hos Kiss. Roligt nytänkande hos rockfarbröderna. Ett hjältedåd av Simmons som sjunger så bra att jag ryser.
För att inte diskutera Paul´s sång i den mörka och lite ledsna "It Never Ends". Det märks helt klart att det både har regnat och snöat i New York, Stanley sjunger med en sådan mystik och känsla att bara ett oväder kan vara orsaken.
Nu kommer plattans svagaste kort, "In My Head". Låten drar ner betyget betydligt då den känns som enbart överflödig.
"You Confess" är ett mästerverk, inget snack om den saken. Låten drar åt Simmons´ soloplatta. Underbar soft sång av Simmons uppbackat av cello och bas. Refrängen exploderar och visar sig vara plattans bästa.
Tillslut kommer "Paul Stanley goes Kravitz" i "Take A Look In The Mirror". En suverän avslutning på Kiss' krigsmaskin!
Som avslutning vill jag poängtera följande:
– förvänta er ingen typisk Kiss-platta
– har du Pantera, Alice In Chains och Soundgarden i samlingen kommer du att älska plattan
– vill du sjunga "Rock & Roll All Nite" lyssna inte på "Carnival Of Souls"
Jag hoppas att plattan inte släpps nu när original-Kiss är på turné, den är värd ett bättre öde än så!!!
Betyget sätter jag oblygt till 4+ av 5. En höjdare!
Ulf Larsson
Reporter
KISS Army Sweden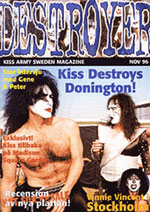 Artikel ur Destroyer 2